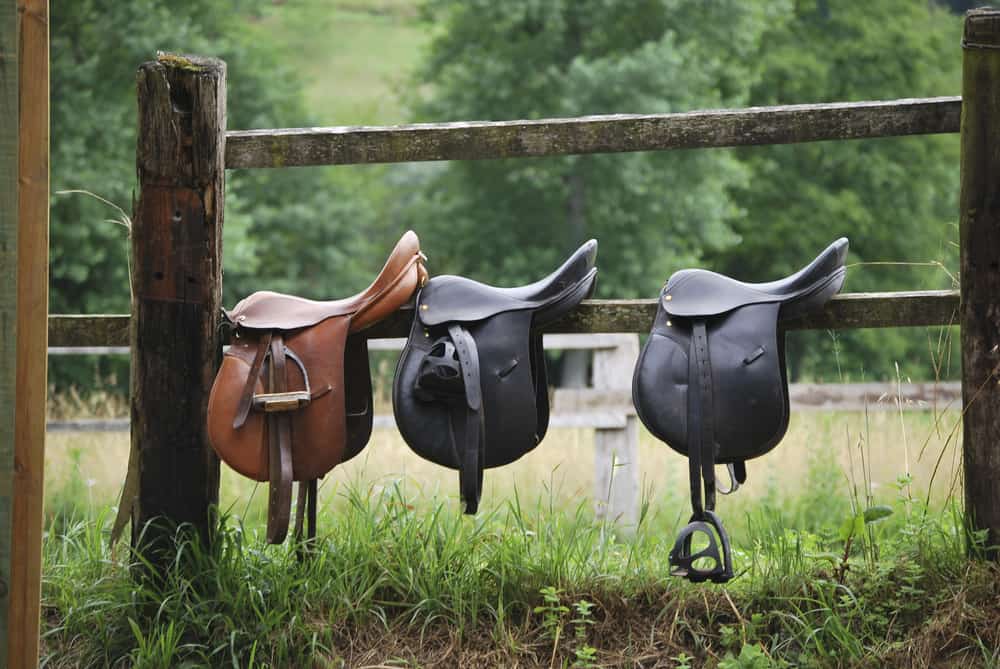 For vegetarians and vegans, an apparent ethical dilemma presents when they have to use animal products. Are you looking for quality horse riding equipment without the guilt of using animal products or the hassle of leather?
Vegan-leather horse-riding equipment is nothing new. Companies like Wintec and Barefoot have been producing synthetic horse-riding tack for years. Vegan horse-riding products are available in all sizes, even for little ponies. Vegan horse-riding tack is beautiful as well as ethical, and animal-friendly. Vegan leather is also low maintenance, lightweight, provides superior comfort, and ideal for all-weather horse riding.
Animal welfare and the environment is up for question; with traditional horse-riding equipment, which primarily uses leather, the need for vegan leather is on the rise for horse-riding tack. Let's take a closer look at Vegan leather and where you can find these products.
What is Vegan Leather?
Veganism is described as withholding from the use of any animal products mainly through diet, which includes withholding from meat and fish and dairy, eggs, honey, and all other animal products. Vegans typically abstain from animal products in their lifestyles, such as furs, wool, and leather.
Vegan leather and faux leather are very much the same things. It is essentially a synthetic leather material that does not use animal skin. Many materials are used to make vegan leather, including synthetics like plastic and natural materials such as cork, kelp, pineapple leaves, and fungi.
Materials most often used for vegan leathers are polyvinyl chloride (PVC) and polyurethane (PU). These are plastic-based materials. Vegan leather is also known as "pleather," which comes from the term plastic leather.
Luxury motor vehicle manufacturers like Tesla, BMW, Mercedes-Benz, Ferrari, and Lexus all offer vegan leather interiors
Why not leather? The ethical dilema
Leather is a tanned hide of an animal, generally, a cow. Generally, most of the hides used in the tanning process are from slaughter facilities where cattle are processed for their meat. Some specialty leathers can be sourced from other animals. For general leather products, an animal is slaughtered just for its hide. This process presents an ethical dilemma for most Vegans and Vegetarians.
More than a billion cows, goats, pigs, sheep, ostriches, kangaroos, alligators, and even dogs and cats are slaughtered each year for their skins. Vegan leather not only makes you look good, but it also makes you feel good because it's cruelty-free. By contrast, vegan leather offers a killer look without any killing.
Also, the process of tanning leather has severe environmental impacts. The chemicals used in commercial tanning contaminate water, soil, and air if not disposed of correctly. Tanning leather uses loads of energy and a toxic concoction of chemicals like coal-tar derivatives, mineral salts, oils, formaldehyde, dyes, and finishes; some are cyanide-based.
Leather tannery waste contains water-fouling salt, acids, sulfides, lime sludge, and other pollutants.
When it comes to the most common and critical ingredient to the tanning process, chromium, when chromium is poured untreated into waterways, this tannery effluent causes severe breathing and skin problems and can eventually cause congenital disabilities.
How is Vegan leather made?
Vegan synthetic leather is made with different chemicals and a completely different industrial process from genuine leather. The way Vegan leather is made is to bond together a plastic coating to a fabric backing.
Vegan leather is mainly made from polyurethane, a polymer. It can be made to order for any product. Vegan leather is also made from innovative and sustainable materials like pineapple leaves, mushrooms, and recycled plastic. Vegan leather made from these products puts animal skin to shame.
Pineapple vegan leather
The pineapple version of vegan leather is made by Ananas Anam and called Piñatex. This innovative vegan textile is made from Pineapple leaf fiber. This is a vegan leather alternative made from cellulose fibers extracted from pineapple leaves.
Globally each year, the pineapple industry produces 40,000 tons of waste pineapple leaves, which would otherwise be either thrown away, burned, or left to rot. Pineapple trees are primarily grown for their fruit; using the other parts of the pineapple plant that usually gets discarded results in less waste for the environment.
The fibers that make this vegan leather come from pineapple leaves grown in the Philippines. The pineapple fibers are extracted from the leaves during a process called decortication.
The extracted pineapple fibers get washed and dried. After the pineapple fibers have dried, they get de-gummed, where the pectin is removed. As soon as the pectin has been removed from the fibers, the pineapple fiber becomes soft and flexible, like cotton material.
After that process, the fibers become a non-woven mesh by stinging thousands of needles into the fibers in an industrial, mechanical process to produce a felt-like structure. This process creates the base of the pineapple leather.
The raw pineapple fiber material then gets shipped to Spain, processed further into a leather-like material. This process gives the pineapple leather a surface and durability of leather. The vegan pineapple leather material is packed in rolls and dispatched directly to designers and brands worldwide.
Pineapple leather is durable, strong, light, flexible, and breathable. Pineapple vegan leather can do most of the things that genuine leather can do. However, pineapple leather has only been around for a short time, so the longevity of pineapple leather is yet to be proven.
What is the best Vegan leather available?
There are so many fantastic vegan leather choices out there today made from cactus, cork, upcycled rubber, mushroom leather, apple leather, grape leather, and pineapple leather. Even all the fruits combined in something called Fruit leather, plus a lab-grown leather called Bio leather.
Approximately three mature leaves of cactus can create one lineal meter of vegan leather. Choosing which kind of vegan leather is right for you is entirely your choice.
What is fungal leather?
Researchers reviewed evidence relating to the manufacture of vegan leather using fungi. It is believed to have considerable potential to be the best leather substitute. Compared to animal and plastic-derived versions, fungal vegan leather beats them all in sustainability and cost.
Scientists of the University of Vienna, Imperial College London, and RMIT University in Australia found fungi-derived leather substitutes an emerging class of ethically and environmentally responsible fabrics. Fungal leather won favor as an alternative to bovine and synthetic leathers.
Traditional leather and its alternatives are sourced from animals and synthetic polymers. This renewable, sustainable fungal leather substitute is obtained through the upcycling of agricultural and forestry by-products using a natural and carbon-neutral biological fungal growth process.
Mushroom roots are grown on sawdust or agricultural waste, forming a thick mat treated to resemble leather. Because it's the roots of the fungi and not the mushrooms being used, this natural biological process can be produced anywhere.
Following physical and chemical treatment, the sheets of fungal biomass look like genuine leather and exhibit comparable material and tactile properties. Fungus-derived leather is CO2 neutral and biodegradable at the end of its life span, making it environmentally friendly.
The vegan leather is made using agricultural and forestry by-products, like sawdust, as feedstock for the growth of fungal mycelium. That is a mass of elongated tubular structures vegetative growth of filamentous fungi.
After a few weeks, the fungal biomass can be harvested and chemically treated to become vegan leather.
Vegan Leather made from Cactus leaves
The competition to produce the cleanest and most sustainable vegan leather will no doubt continue for many more years to come. The newest innovation to challenge the leather industry is leather made from cactus leaves, and it looks and feels really good.
It is becoming more popular than ever for innovators in the textile industry to use organic plant-based materials to produce durable, low-impact vegan leather.
We are introducing Desserto, an innovative vegan leather made from cactus leaves. This raw material grows in abundance with very little water—the perfect balance between performance and sustainability.
Fabricated and grown in Mexico, Cactus Leather by Desserto is an environmentally friendly and sustainable alternative to animal leather.
How is cactus leather made?
To make cactus leather, the process involves using the young leaves or the mature leaves of the cactus plant. In the case of Desserto, they use the young leaves of the prickly pear cactus. These cactus leaves are harvested from naturally grown cactus plants, cleaned, mashed, and then left in the sun to dry for three to four days before being processed.
Young leaves of the cactus plants are harvested without harming or stunting the growth of the mother plant. These young leaves are used to make the Desserto vegan leather. The mother plant regenerates and grows new leaves within a matter of months.
Cactus vegan leather is highly sustainable. Cacti can flourish and survive in dry desert conditions. Irrigation systems are not needed, which significantly reduces the vegan leather manufacturing use of natural resources.
When you compare the process of harvesting the raw material, the water, and energy usage to natural leather tanning, it's a hands-down win for vegan cactus leather when it comes to its environmental footprint.
The lack of chemicals used in the process added to its popularity. Desserto is made without any toxic chemicals, phthalates, or PVC, and it has a 10-year life span.
The founders Adrián López Velarde and Marte Cázarez beat more than a thousand nominees from fifty-two countries to win the VII International Green Product Award in Munich, Germany.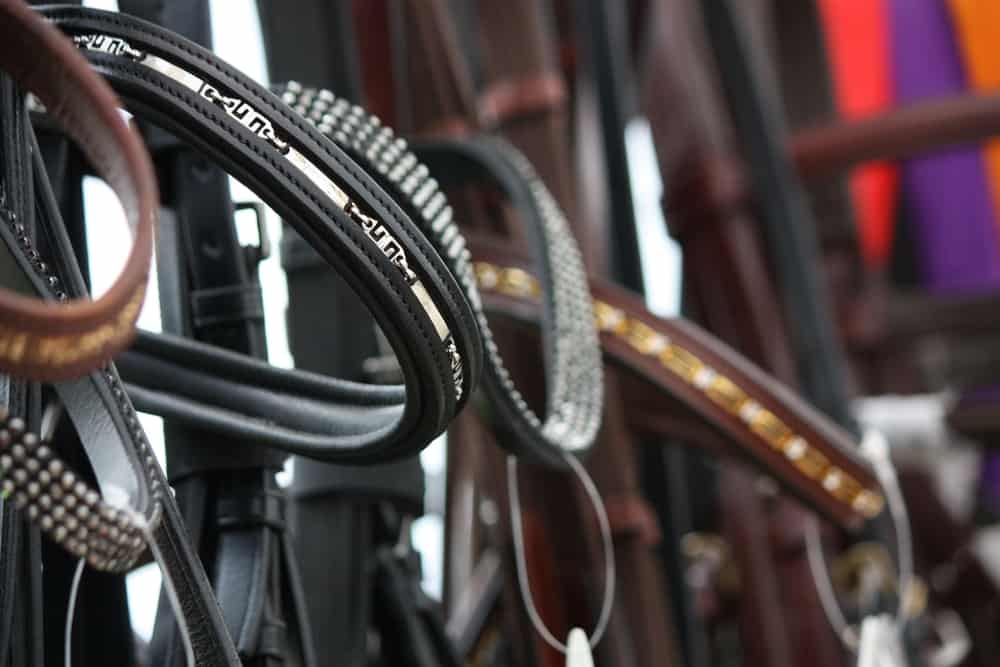 What vegan horse-riding equipment is available on the market?
Many companies on the market manufacture high-quality Vegan horse-riding equipment. Here are some of the products available for your horse-riding pleasure.
Vegan X Dressage saddle by Henry de Rivel. The vegan X dressage saddle is made from synthetic leather and made to resemble exceptional leather. This saddle is entirely animal product-free. It has a classic, sleek look without costing an arm and a leg or consuming animal products. This synthetic leather saddle is low maintenance for the busy equestrian, lightweight, and easy to clean. Buy on Amazon.
Vegan X All-purpose saddle by Henry de Rivel. The Vegan X all-purpose saddle is low maintenance, lightweight, superior comfortable, and ideal for all-weather riding. This vegan all-purpose saddle is also offered in pony sizes. This all-purpose saddle is perfect for flatwork, riding the trails, or doing grid work. Your horse will have all-day comfort with the synthetic wool flocking that conforms to his body, and a saddler can easily adjust it to fit your horse perfectly. Get that same high-quality saddle as leather saddles but with the ease of maintenance animal friendly and without a considerable price tag. Buy on Amazon.
Vegan X Leather Halter by Henry de Rivel. With this halter, safety is not forgotten. It has a breakaway grommet that detaches with enough pressure, freeing the horse when it gets caught on any fence post or railing. Completely waterproof, you will have no worries bathing and getting this material wet, unlike traditional leather. This halter is easy to clean by simply wiping it with a damp, soapy cloth for caked-on dirt, and no oil or conditioner necessary.
Vegan X Stirrup leathers by Henry de Rivel. Use these stirrup leathers with the all-purpose Vegan-X saddle or any other synthetic saddle. These stirrup leathers offer less stretch over time, and they hold their size for longer than traditional leather. The stirrup leathers lay comfortably flat under the saddle skirt under the rider's thigh. Buy on Amazon.
Cheyenne All round saddle from Barefoot. The All-around saddle from Barefoot is made entirely from non-animal products. This saddle is very light, weighing only 4 kg. It has close horse contact and a very comfortable seat. There is no restriction of knee rolls on this saddle. The artificial leather Barefoot use is called DryTex, and it has a slightly grained structure. This material is very light and can easily be cleaned with just a wet sponge.
Guilltopp Riding boots. The Gulltopp equestrian riding boots are made using only plant products. No animal products are in any of the parts of these riding boots. This leather is made out of recycled plastic bottles that have been collected during the clean-up of the seas.
Fratelli Fabbri Vegan Riding Boots. These 100% vegan riding boots are the best on the market. Fratelli Fabbri announced these completely animal product-free performance horse-riding boots in 2018. It is also known as the Fabbri VEG as they join Fratelli Fabbri's line of equestrian footwear. Despite the unique construction, the Fabbri vegan boot maintains the sleek elegance, traditional craftsmanship that became the hallmark of the Fabbri name. The brand is dedicated to reducing its carbon footprint while increasing actual Fabbri footprints in training and show arenas worldwide. The Fabbri Vegan boots are crafted from the best vegan leather and non-animal components for minimal environmental impact.
Here is a list of companies that make excellent Vegan horse-riding equipment
All of these companies manufacture quality vegan horse-riding equipment, and all are easily found online.
Henry de Rivel.
Fratelli Fabbri.
Barefoot.
Gulltopp Equestrian.
Horze.
Wintec.
Tekna.
Robert-Squared.
Rowberton Equestrian clothing.
Horsewear Ireland.
Devoucoux.
In2green apparel.
Schleese.
Beta Biothane.
Green Soul Collection by Alberto Fasciani.
JPC Equestrian Inc.
Stateline Tack.
Double T Saddlery.
Tack Warehouse.
Zilco.
The Distance Depot.
How much does vegan horse-riding equipment cost?
Vegan leather is generally a lot cheaper than genuine leather products. It's much cheaper to produce synthetic plastic leather than it cost to produce genuine leather. Here are some products and their prices sourced from the online companies listed above.
Saddles
A synthetic Wintec all-purpose saddle can cost from $650 to $1350.
A Synthetic Tekna all-purpose saddle is available for around $450.00
A King Basic Synthetic Trail Saddle from Stateline Tack is priced at around $445.00
A Black Duralether Wintec Saddle is priced at around $400.00
A Cow Print Synthetic Saddle from Double T Saddlery can cost anything between $200 to $250.00
A Double T Black Cordura Trail Saddle with Zebra Print costs around $249.95.
Bridles
A full Bridle synthetic leather set with breast collar and reins from Beta Biothane will cost you around $212.00
A Zilco Swarovski Marathon Endurance Bridle is priced at around $179.95.
A Collegiate Syntovia+ Padded Raised Flash Bridle costs around $69.99.
A General Wintec Bridle with rubber reins costs around $59.99.
Berlin Beta BioThane Browband Bridle Headstall around $33.95.
Berlin Beta BioThane Endurance Bridle halter around $69.95.
Navajo Traditional Trail Halter Bridle is around $110.00.
Beta Biothane Brow Band is around $20.00.
Beta Biothane Full Cheek Snaffle Keepers (Pair) is around $20.00.
Reins
Berlin Beta BioThane Roping & Barrel Reins 8′ is around $20.95.
Berlin Beta BioThane Continuous Trail Reins 10′ is around $25.95.
Navajo Beta Biothane Lead is around $40.00.
Navajo Beta Biothane Grip Reins with Colored Ends is around $75.00.
Camo or Reflect Beta Grip Reins is around $60.00.
Beta Biothane Grip Split Rein with Camo or Reflect Ends is around $75.00.
Halters and nosebands
Beta Biothane Deluxe Add on Headstall & Halter Combo is around $125.00
A Zilco Deluxe Endurance Halter costs is around $81.95.
Beta Biothane Cavesson Noseband is around $45.00.
Beta Biothane Removable Flash is around $27.00.
Stirrups
EasyCare E-Z Ride Black Ultimate Ultra Stirrups w/Beta Biothane, Reflective or Camo Cages (Pair) is around $300.00.
EasyCare E-Z Ride Black Nylon Stirrups w/ Navajo Overlay (Pair) is around $95.00.
Stirrup leathers
Beta or Biothane Stirrup Leather (Pair) – 1″ Wide- Newly Designed 54″ is around $50.00.
Beta or Biothane Stirrup Leather (Pair) – 1″ Wide- Newly Designed 48″ is around $47.00.
Biothane Stirrup Turner (Pair) is around $38.00.
Martingale
EasyCare E-Z Ride Black Nylon Stirrups w/ Navajo Overlay (Pair) is around $65.00.
Beta Biothane Running Martingale is around$35.00.
Beta Biothane Training Martingale is around $65.00
Riding wear
Gulltopp Plantbased riding boots will cost you around $780.00
Biothane Spur Straps is around $19.00.
Alberto Fasciani's 106 Vegan Training ankle boot is around $284.00.
Urbino Vegan Riding boots [34 –39) is around $435.00.
Urbino Vegan Riding boots [40 – 46] is around $676.00.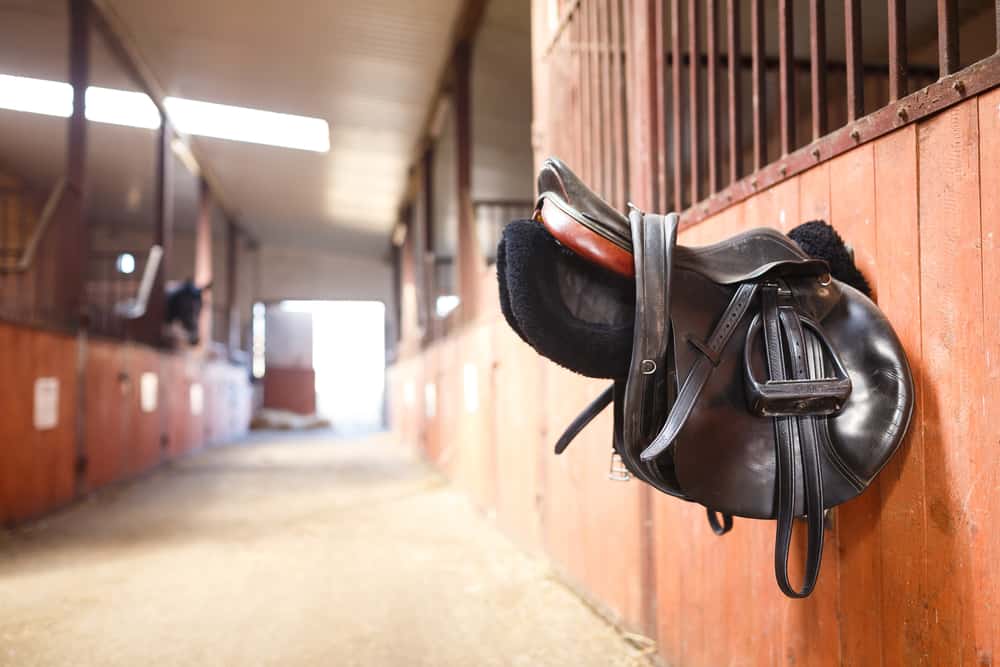 What colors are available in Vegan leather?
Almost any color you can think of can be produced in vegan leather. Black, brown, green, blue, yellow, pink, red, purple is just some of the colors available in vegan horse-riding products.
How do you maintain vegan horse-riding equipment?
Your vegan leather is made with a plastic coating and is waterproof. To clean, you just need to use a mild detergent and wipe it with a damp cloth to remove dust or mud. It is unnecessary to use any oils or conditioners on your vegan leather as conditioners can't penetrate it.
Vegan leather can dry up and crack if it is left out in the sun a lot, specifically if it is a poor-quality material. Certain vinyl conditioning products are available to help prevent high temperatures and sun rays from cracking the surface. These products can also help to soften vegan leather.
Traditional leather conditioning products have little impact on vegan leather to soften the material. You can use a Vinyl conditioner to soften vegan leather. Apply with a soft cloth in small circular motions. You should then remove the excess conditioner with a clean cloth. Leave the product too dry
Dry your vegan leather product in a well-ventilated area. Even if you take good care of your vegan leather products consistently, it might still experience common issues like scratches and scrapes.
How do you store Vegan horse-riding equipment?
Store your vegan horse-riding equipment in a dry, well-ventilated room. Cover with cotton or any light material. Do not cover your vegan horse-riding tack with plastic when stored. Plastic traps moisture, which will lead to mold or mildew on your tack or saddle. Plastic can also become stuck to the vegan leather and ruin it.
Is vegan horse-riding equipment durable?
Vegan leather is generally a lot cheaper and of a lower quality than genuine leather.
Vegan leather comes in many different forms and qualities; some are more durable than others. When we focus on good quality vegan leather, there isn't a big difference from genuine leather.
Vegan leather is ultimately less durable than genuine leather. Vegan leather tends to be thinner than genuine leather, so it's not uncommon for vegan leather to scuff or tear over time.
Because vegan leather is synthetic, it doesn't form a patina like genuine leather does when aging. It is much less breathable because the pores printed onto the surface of vegan leather are artificial.
What are the benefits of owning vegan horse-riding equipment?
Vegan leather cleans easily. You only need to use a damp cloth and water to wipe it clean after use.
Horse-riding equipment made from vegan leather is entirely ethical no animal products were used in manufacturing.
Vegan horse-riding tack needs no conditioner or oil to maintain.
Vegan leather is a non-stretch that prevents un-evenness.
Vegan horse-riding tack is waterproof and can be used in rainy weather.
Vegan horse-riding equipment is made from non-drying material that lasts longer.
Vegan horse-riding tack is available in any color of your choice or design.
Vegan leather is non-fading.
Vegan leather is cost-effective.
Vegan horse-riding equipment is lightweight and ideal for endurance riding.
Vegan leather is cruelty-free; no animals were harmed in the making of the horse-riding products.
Is Vegan horse-riding equipment environmentally safe?
Cruelty-free vegan leather may be cruelty-free from an animal welfare or vegan perspective, but that doesn't mean it is good for our planet. The ethical credentials of vegan leather are pretty obvious; no animals are killed; its sustainability is a little more obscure. The toxins in the plastics used to manufacture synthetic leather are not beneficial to the environment.
Unfortunately, the most common leather alternative to make vegan leather is petroleum-based plastic, called polyvinyl chloride (PVC). This synthetic leather is made with fossil fuels and can be harmful to the environment and human health.
The disposal of PVC-based synthetics lets out hazardous dioxins, which cause developmental and reproductive issues and even cause cancer in humans.
The synthetics used in the manufacturing of vegan leathers also don't fully biodegrade. Although they are broken down to a degree, they also release toxic particles and phthalates, which affect the health of animals and the environment.
Conclusion
More vegan horse riders have chosen vegan leather saddles and horse-riding tack over traditional leather ones over the past few years. Horse-riding equipment companies have responded positively by producing a more extensive selection of vegan leather saddles and vegan horse-riding equipment. Vegan leather is manufactured from a variety of natural plant-based and synthetic products.
You can easily find English, Australian, Western, Endurance, and Hybrid saddles in vegan leather. Treeless saddles are also available, and even the more specialized kind of saddles like barrel racing and dressage. Horse-riding wear is also available in top-quality vegan leather in the form of high-quality riding and jumping boots.
Vegan leather is considerably thinner than the genuine leather and a lot lighter in weight. The lightweight horse-riding equipment is ideal and comfortable for your horse; it also makes it easier for you to carry around the stable or yard. Vegan horse-riding tack is easy to clean and maintain, and don't break the bank when you need to purchase new tack.
However, in the long run, vegan horse-riding equipment is less durable than genuine leather horse-riding equipment.
Many vegan leather manufactures are producing top-quality vegan horse-riding equipment that you can choose to purchase. Any color or style is available to suit your riding discipline or a designer style. Vegan leather has gained popularity through the years by providing a guilt-free, no harm to animal product to vegans and vegetarians alike.