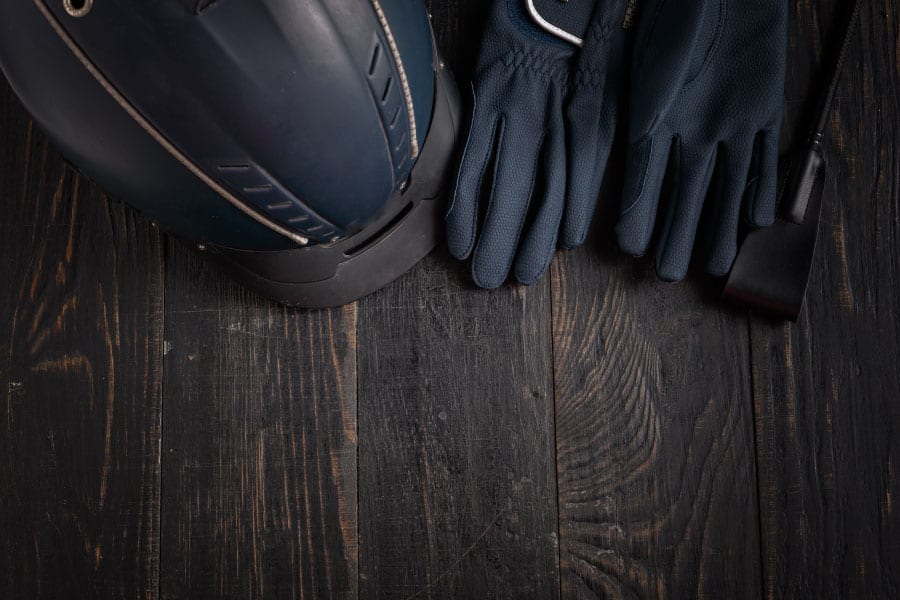 Showjumping wear is still very much traditionally upheld over the years, yet it is constantly changing and evolving, making rider wear more comfortable and practical for the sport today.
Exactly what to wear for showjumping will depend on your level, and the type of competitions you want to compete in. Affiliated jumping rules will differ from non-affiliated jumping rules and whether it is a USEF governing show or an F.E.I governing competition.
Traditionally for affiliated jumping competitions, one has to wear an approved safety helmet, a dark-colored jacket over a white-collar shirt, white, beige, or fleece pants, gators or long boots, and no bright or distracting colors or patterns are allowed. Other rider wear and accessories such as crops, gloves, and spurs are optional. Unaffiliated jumping competitions are more relaxed; however, a proper-fitted safety helmet and riding boots would still apply.
Whatever your competition level, we will try and go through everything that a rider and horse will need for showjumping wear in this article.
A brief history of show jumping wear
Showjumping wear has evolved tremendously over the years, especially for women. Back in the early 1900s, women were still riding side-saddle in long skirts and corsets compared to the high tech and breathable materials that our sport welcomes today. Breachers were traditionally tightly fitted on the legs and ended in buttons or laces halfway down the calf. To allow for greater freedom of movement, breeches had a distinct flare through the thighs.
Today our sport is spoiled with high-tech light, breathable, stretchy, and weatherproof riding jackets that allow the rider freedom over the jumps. Breeches that stretch, pad, and grip your seat in all the right places from summer to winter. Breathable and laced white collar shirts, even high-tech protective vests, and helmets that must pass all the proper safety requirements.
The only sport where athletes compete in coats
Probably the biggest debate of show jumping wear is why we still need to ride in jackets. Think about it. We are basically required to do our sport in coats. The reason for this is the tradition! Riders have traditionally worn jackets throughout show jumping history when competing.
The big debate is in a sport so desperate for sponsors, should riders not rather be competing in wear that can favor their sponsor. Strict limitations are put on showcasing sponsorship deals on riders' wear and tack on competing, and the debate is whether that benefits the sport to grow.
Should we rather uphold tradition than enable riders to showcase their sponsors in a sport that is becoming increasingly expensive?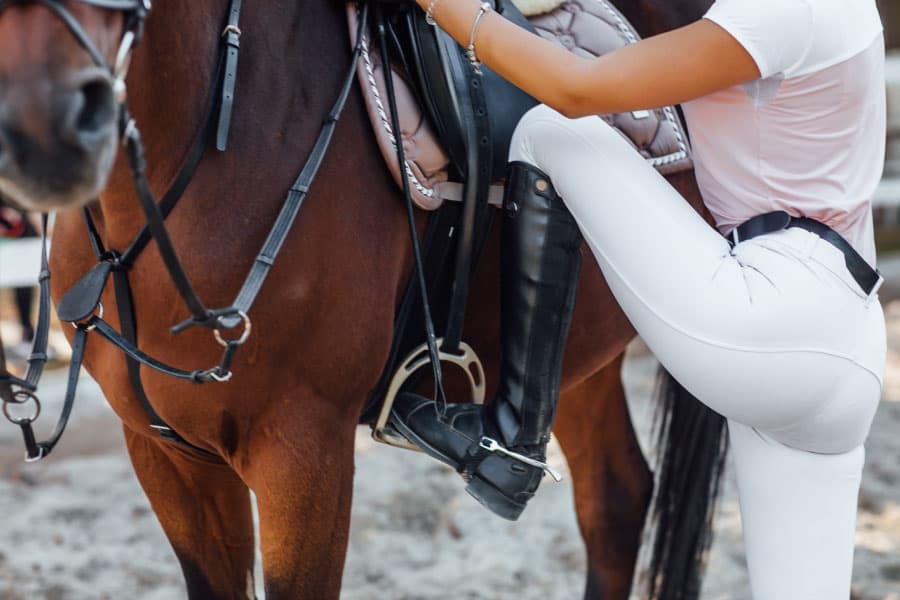 The basics
Saddle
Showjumping is traditionally done in forward-style English saddles. These saddles are used because it allows the rider more freedom of movement when going into a jumping position. Shorter stirrups anchor the rider in the saddle, whereas other saddles such as the dressage saddle are designed to give the rider a deep seat.
Check out our post on jumping in a dressage saddle here.
Bridle
Bridles can differ, but English style bridles and modifications from the English bridle is used in show jumping competitions.
Bits
A bit that is considered harsh, inhumane, or that can cause injury to the horse will not be allowed in show jumping competitions, and the ground jury will have the right, based on a vet's recommendation, to forbid the use of a bit. Gags and hackamores are allowed. Other than that, there are no restrictions on bits.
Regarding reins, the F.E.I states: "Reins must be attached to the bit(s) or directly to the bridle. A maximum of two pairs of reins may be used. If two pairs of reins are used, one pair must be attached to the bit or directly to the bridle."
Spurs
The primary reason for riding with a spur is to get your horse to move forward and off your leg. Spurs are non-mandatory for riders. Strict regulations on spurs when competing are enforced, such as rider may only use spurs when the neck of the spur is under a certain length, the spur is smooth with no sharp edges, rollers are smooth and able to rotate.
Penalties and sanctions are imposed when spurs are used excessively or harshly. Spurs must be fitted correctly to the rider's boot to prevent improper use. You can read more on Why showjumpers wear spurs here.
Personally, I like to use the normal prince of whale spurs that are just the right horse to get the job done. Spurs with smoother edges are also recommended, such as hammerhead spurs, just to be extra careful not to cause the horse's skin to break, which may result in the rider being penalized or even disqualified from a competition.
Our Picks
Hammer Head Spurs. This is a perfect length of spur that will insure you don't brake the skin while riding.
Prince of Wales Spurs. I personally have been riding with Prince of Wales spurs my whole life and never had an issue. They are great spurs to use for jumping.
Gloves
Gloves are non-mandatory wear for show jumping. Reins can be really hard on your hands, especially when riding young horses and horses that pull a lot.
I am a bit envious of people who can ride without them as they can cost a small fortune a year, especially when riding a lot of horses. I find it really hard to find a pair of gloves that don't break within a few months of riding especially when going through a few horses a day. Therefore, I use soft welding gloves for training gloves as they last up to a year, and then I save my nice pair of black gloves for the show-ring.
Gloves can come in all different types of material and leather. Personally, I like goat leather the best as I think it lasts the longest. Some gloves provide extra padding through the palm of your hand and around the bottom of your ring finger. However, some riding gloves are just too thick and restrictive. You should be able to make a fist comfortably when trying them on. Gloves are a personal choice, but most riders ride with them, and they can definitely become quite costly.
Our Pick
Heritage Premier Show Glove. This is a perfect length of spur that will insure you don't brake the skin while riding.
Body protectors
Body protectors are not mandatory for show jumping competitions and are traditionally bulky and restrictive to wear when jumping. As the sport evolves body protective vests are being designed more "high tech" that is less bulky and can easily be worn underneath the rider's jacket without feeling restrictive.
However, no significant research has been done to prove that body protectors are actually effective in protecting the rider when jumping. Until such evidence has been found, I doubt body protectors will ever become a mandatory item to wear during competitions.
For more on body protectors, feel free to read our article on Do Show Jumpers Wear Body Protectors?
Affiliated showjumping: What to wear
Dress code
As a general rule, rider wear may not be overly distracting. Modern show jumping jackets can be bought ranging from moderately expensive to "pricy" as jackets are uncomfortable, and new high-tech, breathable, and light materials are now being produced to make showjumpers more comfortable when jumping with coats. Modern jackets are made with stretchy all-weather material that does not restrict the movement of riding or going over a fence.
The F.E.I also states that armed service members, members and employees of military establishments, police and gendarmerie, and members national studs may wear civil or service dress.
Pants
For affiliated jumping competitions, pants must be white, pale yellow, or fawn-colored. However, white pants are the most common amongst competitive showjumpers.
Riding breeches are designed for equestrian riding and jumping, and modern styles and materials have made breeches more comfortable and breathable to ride in. Breeches are made from modern stretch materials that fit skin-tight, allowing them to be comfortable in the saddle.
Our Picks
Kerrits. Kerrits are one of my favorite equestrian brand as it is light, durable and breathable making them perfect for competitions. Check out these from Amazon.
TuffRider. TuffRider is also a very popular brand for riding as their breeches are comfy and stylish.
Ovation Men's Straight. For the men I recommend the Ovation Men's Straight.
Gators or long boots
Only long black or brown boots or gators are permitted during affiliated show jumping competitions and are usually the same color as the riders' girth and saddle. It always looks a bit funny to me when I see a rider in black tack but brown boots. Sometimes long boots are gators can be in two colors, both black and brown, which is permitted in the show-ring.
Our Picks
EQUISTAR Women's All-Weather Synthetic Field Equestrian Riding Boot. For long boots, this is our pick for Show Jumping.
Gators. For gators I like these half chaps.
Show Socks
Show socks are usually worn over the rider's white breachers as long boots and gators can sometimes stain our beautiful white pants. Show socks are usually a normal cotton short sock that extends to thin nylon material up the leg (think sock that turns into a stocking). They are also great for summer. Normal long or knee-high socks can also be worn if you don't find them causing the boots or gators to fit too tightly.
Our Picks
Intrepid International CoolMax Boot Socks. These are the best socks for the job, they are breathable and just magic, with a great range of colors to choose from.
Copper Compression Socks. Another good sock perfect for long boots and gators are these compression socks that help with circulation and also come in a wide range of colors and patterns.
Jacket
Traditionally Jackets are required for showjumping competitions. Jackets must be of conservative colors such as black, blue, green, grey, or brown, with slight color variations allowed on the collar of the jacket.
In harsh cold or rainy weather, the Ground Jury may allow riders to wear a greatcoat or a waterproof coat, and in hot weather conditions, they may allow riders to ride without a jacket.
Modern style jackets have come a long way since the old days of heavy wool jackets. Modern styles are windproof and made to be more breathable and comfortable for riders.
The jackets can complement the horses' tack and the rider's pants as long as it is a neutral color such as black, grey, navy and brown.
Also check our post on whether you can show jump in tweed.
Shirts
Shirts can generally be any color as long as the shirt has a white collar, and long-sleeved shirts must have white cuffs. Shirts have also changed drastically over the years, and new modern, more breathable UV protective shirts are now worn throughout jumping competitions.
There are shirts with two types of collars that are seen around the show ring, Chinese collared shirts with which you wear a stock and the classic type collar with which you can wear a tie that matches your jacket.
Our Picks
Long Sleeve
Tredstep Symphony Society Longsleeve Competition Shirt. Our pick for the best long sleeve shirt for Show Jumping.
For more breathable modern styles that are beautiful check out some great alternatives from horse.com
Short Sleeve
HR Farm Women's Short Sleeve Quick Dry Horse Riding Show Shirts. Our pick for the best short sleeve shirt for Show Jumping.
Safety Helmets
As the international governing body for all equestrian sports, The FEI requires all competitors to wear a helmet when competing or participating in any of their equestrian events. Safety helmets must meet safety requirements in terms of shock absorption and protection and has to comply with either one of the following standards:
European (EN)
British (PAS)
North American (ASTM)
Australian and New Zealand (AS/NZ)
It is mandatory for all riders to wear a properly fastened protective headgear with a three-point retention harness at all times when mounted. This is mandatory at all jumping competitions, affiliated, unaffiliated, and training shows.
Riding without a safety helmet when practicing showjumping and most equestrian sports is frowned upon.
Safety helmets have advanced over the years, with significant research showing evidence that safety helmets are 80 percent effective in preventing severe head injuries and death in equestrian sport and have therefore become enforced throughout showjumping.
Safety Helmets can expire and become less effective; therefore, it is important to replace your helmet after a fall or direct hit to the helmet as the structure can be damaged.
Our Picks
These two helmets I can recommend tick all the boxes in terms of style, safety and air ventelation and cooling. They are pricier but definitely worth the investment when it comes to your head.
TuffRider Starter Horse Riding Safety Helmet. For a more affordable option if you are new to competition riding I would recommend this helmet from Tuff Rider.
Warm-up Jacket
Having a jacket for the warmup arena can be useful for rainy days, especially when your jacket is not weatherproof, and you don't have mud spattering all over your expensive show jacket. Warmup jackets can also be more comfortable to warm up as you spend more time in the warmup arena than when competing your round.
One can also have a thicker warm-up jacket for the winter month, especially when you have a light jacket and a lighter warm-up jacket for the hot summer days or even a warm-up shirt to just swap off for your jacket before your round. The ground jury can decide to allow riders to ride without a show jacket if the weather is too extreme. However, depending on the show, this is not always the case.
Our Picks
Kerrits Warm-Up Fleece Jacket. Again these warm-up jackets from Kerrits are great as they are comfy and they allow you to move while you are bus warming up.
Kerrits Warm Up Quilted Jacket. I personally warm-up with one of these jackets from kerrits as they are water proof or at least mud proof.
Ariat Women's New Team Softshell Jacket. Also these softshell jackets from Ariat is also a winner and not to mention beautifully stylish.
Cover pants
Another item to think about is wearing sweat pants over your beautiful white breeches to keep them clean before you mount your horse. Imagine what your oh so white pants will look like after doing everything it takes to get to the show, walking the course, and tacking up. By the time you need to get on your horse, your pants are not so white anymore.
The same can be said for shoes. Unless you plan on polishing your boots after a nice course walk through the mud, maybe consider leaving your boots in the truck where they can stay nice and clean for your round.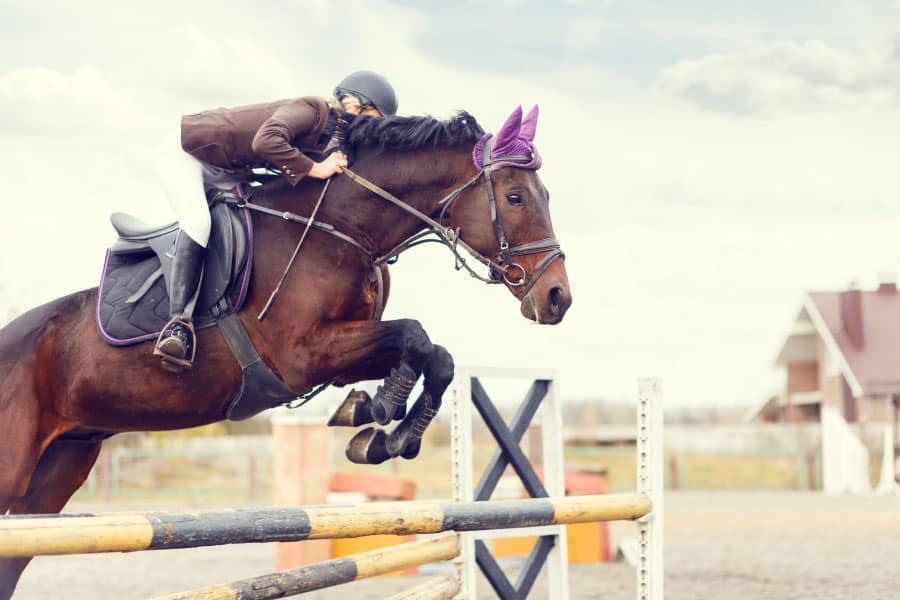 Unaffiliated showjumping: What to wear
Pants
For unaffiliated competitions and training shows, any color pants of your choosing will be allowed. It can be bright or dark colors and even two-tone colors will be permitted. Basically, for a training show, anything goes, especially for kids unless specified otherwise on the entry forms or club rules.
Boots
For unaffiliated show jumping competitions and training shows, long black or brown long boots, gators, or chaps are allowed. Chaps can be any color without any restrictions on color. For training and unaffiliated jumping shows, a rider may also choose to just compete in a short boot if they wish.
Jackets
Jackets are not mandatory for unaffiliated jumping competitions. However, it is standard for the rider to have their shirt neatly tucked in, but this is also not a must, and you will not be disqualified if you wear a loose-fitted shirt at a training competition.
Safety
The exact same safety requirements will apply when it comes to wearing a helmet for an affiliated jumping competition and a non-affiliated jumping competition—a properly fastened protective Headgear with a three-point retention harness at all times when mounted.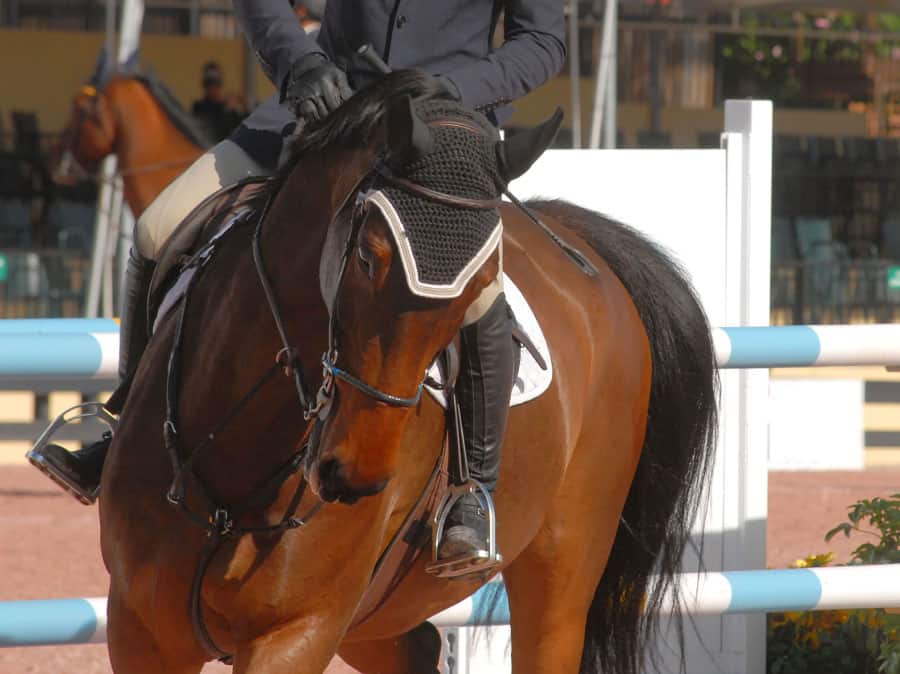 What should my horse wear for show jumping?
Show jumping tack rules
The F.E.I has stated the following rules and regulations regarding tack and equipment for jumping:
In the competition arena, blinkers and fly masks that cover the Horse's eyes are forbidden.
Leather, sheepskin, or similar material may be used on each cheekpiece of the bridle providing the material does not exceed three centimeters in diameter measured from the Horse's cheek.
Only unrestricted running martingales are allowed; no more than one martingale stopper per rein may be used. Reins may not be configured in such a way as to cause a running martingale to function as a standing martingale.
Gags and hackamores are allowed.
Athletes are allowed to use a dressage whip when working on the flat but are strictly forbidden to use or carry a whip which is weighed down at the end at any time or to carry or use one which is more than 75 centimeters in length in the arena and schooling areas when riding over poles or any obstacle. No substitute for a whip may be carried.
The total maximum weight of equipment allowed to be placed on a Horse's leg, front or hind (single or multiple boots, fetlock rings, etc.), is 500 grams (shoe excluded).
The use of a tongue-strap is forbidden.
Source: https://ijoclub.com/wp-content/uploads/2019/07/Memo_NFs_Proposed-Modifs-JRs-20201.pdf
Boots
F.E.I stated the rules and regulation regarding the use of protective boots are as follow:
A boot is not allowed to have more than two fasteners. There are only two types of fasteners are permitted, which are the following:
Velcro-type fasteners
Straps must:
Have a Velcro or Velcro-type fastening system.
Each fastener must be 2.5 cm in width at a minimum, if there are two strap
Have a minimum width of 5 cm if there is only one strap
For boots with a protective element only on the inside of the fetlock, straps may be elastic or non-elastic
For double-shell boots, the straps must be elastic Stud-type fasteners:
Straps must:
Be made of elastic
Each fastener must be 2.5 cm in width at a minimum
Have holes to fit over a stud on the boot
Hook-type fasteners
Straps must:
Be made of elastic
Each fastener must be 2.5 cm in width at a minimum
Have a hook that fits into an "eyelet" at the end of the boot
All fasteners have to be one-directional; the fastener has to be attached from one side of the boot directly to the other side, but should not wrap around the boot entirely
no mechanism allowing the fastener to double back on itself is permitted.
No additional elements may be inserted or added to the boot itself.
Numnahs
For Affiliated jumping competitions, usually, no bright colors or distracting patterns are allowed, and badges or sponsored logos have a certain size restriction. In my opinion, this does no justice for the sport as we want to encourage more sponsorship in the sport.
For unaffiliated jumping competitions generally, anything goes, which means you can jump and compete in the funky numnah your non-horsey friend bought you.
Hairnets
Hairnets were used in the older days to keep the hair out of the rider's face and keep the hair neatly under the helmet. Hairnets are old school and are seldom seen worn by showjumpers. Hairnets are not mandatory in show jumping competitions. They are still custom to wear in hunter competitions and pony club.
Ties
Sometimes showjumpers are seen wearing ties. The ties should be neutral colors and non-distracting as stated by USEF.
Jewelery
It is not advised to wear any jewelry that can hook on your gear, such as earrings. Armbands can make a noise when you jump, it can be distracting to the horse and the ground jury can also ask you to remove it. Rings and necklaces are allowed given that they are hidden and not distracting.
Ear Covers
Ear covers are also known as ear bonnets, fly-bonnets or, earmuffs, and are an equestrian accessory that is worn on top of a horse's head and over the ears.
Ear covers are worn in show jumoing to distort or muffle sound, so a horse can't react to things like loud crowds or normal show noises that can cause them to get spooked, be distracted, or become anxious during a showjumping round.
For more on ear cover in show jumping, check out our post on it here.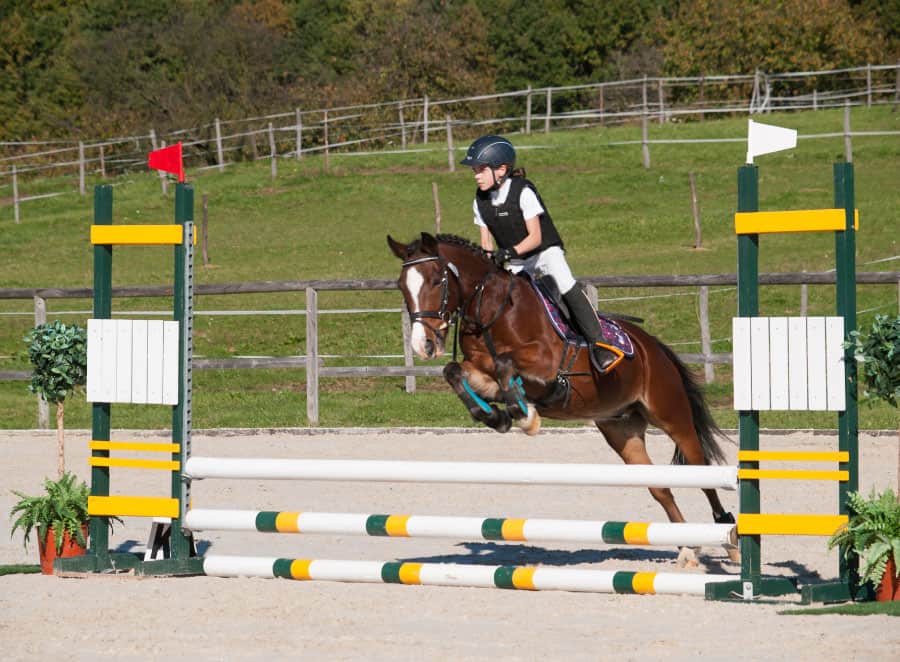 Training for show jumping: What to wear
Standards when showing up for a lesson
When training with a professional trainer or showing up for a lesson, certain standards might be expected from the riders, and trainers expect riders to be turned out properly and ready for the lesson.
Riders should have their shirts neatly tucked into their pants or belts and not wear loose fitted shirts.
No noisy or distracting jewelry to be worn when riding.
Boots need to be cleanly polished or reasonably clean when showing up for a lesson.
Spurs and helmets need to be properly fastened and correctly fitted.
The only martingales permitted are running martingales used in a conventional manner: only one martingale stopper per rein is allowed. The stopper's position has to be between the martingale's ring and the attachment of the rein to the bit, hackamore, or bridle.
The exception is that Irish martingales are allowed in all classes.
Showjumping Wear Checklist
Approved safety helmet
Show jacket
White or badge breeches
Warmup jacket
Gators or long boots
White-collar shirt
Gloves
Spurs
In Conclusion
There are many pieces of clothing and gear for both rider and horse that is regulated by USEF and the FEI. It is very important for the rider to familiarise themselves with the rules in their own region for both affiliated and non-affiliated shows.
I hope that you have found what you came to this article for, as we have gone deep into all the necessary requirements for the different types of showjumping events in order to show you exactly what you should wear and why.