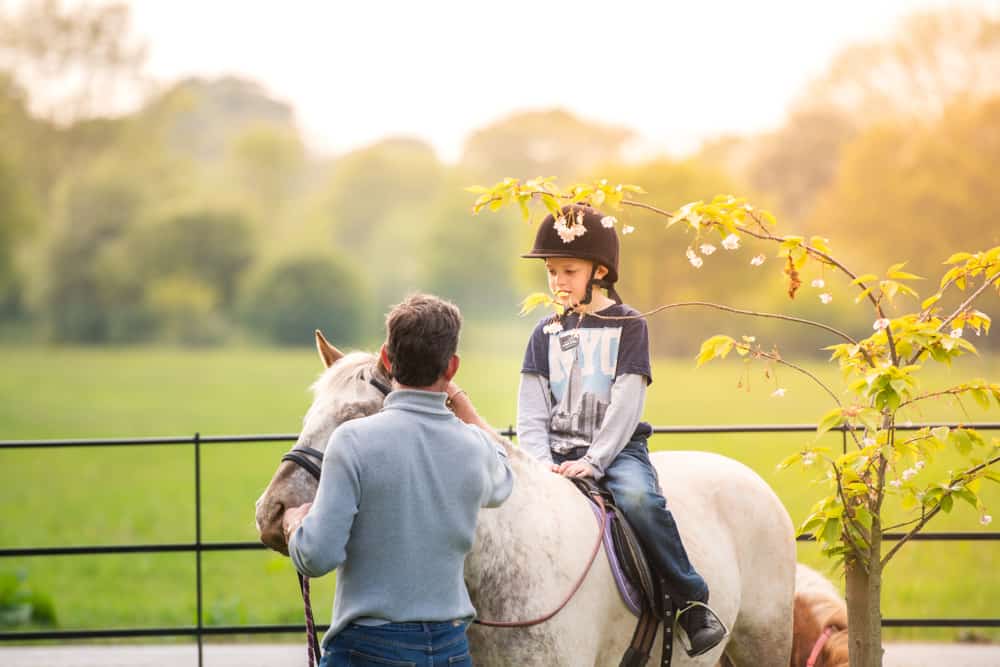 You are a skilled horse rider passionate about horses, loves to teach, and often thought about becoming a Horse-Riding Instructor. Do you wonder what qualifications you need to become a certified horse-riding instructor?
There are some amazing employment options available for this rewarding career. Let's look at all the ways you can get into this remarkable horse-riding career.
To become a certified horse-riding instructor through the American Riding Instructors Association, you need to have at least a year of horse-riding teaching experience. You are required to complete oral, written, and practical tests before you are certified. The ARIA certifies riding instructors in 15 different horse-riding disciplines. The initial cost of certification for an instructor certification for a horse-riding discipline costs $595. 
In this article, we look at all the requirements needed to qualify as a horse-riding instructor.
What is a horse-riding instructor?
A certified horse-riding instructor teaches horse riders how to ride horses and improve their riding technique. A horse-riding instructor teaches horse riding disciplines to all age groups and horse riders of different riding skill levels.
Most horse-riding instructors have years of horse-riding experience. A certified instructor teaches students in horsemanship and specific horse-riding disciplines to prepare them for equestrian competitions and events at the amateur, collegiate, or professional level.
Horse-riding instructors also teach their students about horse behavior, stable management, horse health, care of competition horses, riding safety, and how to get the best behavior out of their horses.
Instructors can work with individual students, groups, stables, camps, ranches, or independent facilities. Riding instructors are also capable of training horses.
Additional teaching subjects
In addition to teaching riding techniques, an instructor may also teach;
Horse care, feeding, and grooming.
Equine physiology and anatomy.
Equine health
Stable management
Tack and equipment use.
What are the benefits of becoming a Horse-riding Instructor?
There are many benefits to becoming a certified horse-riding instructor. Being a certified riding instructor and having gone through all the extensive safety training exams, you are capable of teaching proper riding safety protocols to horse riders.
As a certified riding instructor with the knowledge and practical skills you obtained through your certification, you get to support and develop other horse riders in reaching their horse riding goals.
With your skills as a horse-riding instructor, you get to train individuals and groups of horse riders independently. Your practical business knowledge obtained through the course will allow you to manage an Equestrian facility or Stable Yard successfully.
Certified horse-riding instructors can ask for a higher trainer's fee. A commercial stable or farm most likely will give preference to hiring an accredited instructor instead of a teacher who isn't certified.
As a certified riding instructor, you can work as a freelance instructor, which gives you the freedom to work hours of your choosing while earning more money.
List of some Riding Instructors' Associations to choose
American Riding Instructors Association
The ARIA offers riding instructor courses in fifteen different horse-riding disciplines like Dressage, Endurance, Showjumping, Eventing, Driving, Side Saddle, Hunt Seat, Saddle Seat, Hunt Seat on the flat, Fox Hunting, Reining, Mounted Patrol training officer, Recreational riding, Western riding as well as Stable Management.
The certification for a discipline of your choice costs $595. Recertification renewal courses are required twice more at five-year intervals and cost $350 each time.
As an ARIA certified Riding Instructor, you are nationally recognized as a certified horse-riding instructor, and you are added to the ARIA Riding instructor's directory and website.
Certified Horsemanship Association
Established in 1967, the Certified Horsemanship Association (CHA) has certified more than 30 000 riding instructors, trail guides, and barn managers.
The CHA offers a three-year certification after completing a weeklong horse-riding clinic consisting of practical riding evaluations, written exams, attending seminars, and practicing riding lessons.
Instructor certification is available in English riding, Western riding, Trail guide, Driving instructor, Vaulting instructor, instructor for disabled riders, and Equine facility management.
To keep their instructor certification, a current riding instructor must complete at least 25 hours of continuing education credit every three years. The cost of initial certification at the CHA costs $200, and the recertification is $75. Yearly membership fees are $60, and lifetime membership will cost $750.
Centered Riding
Founded by Sally Swift, the Centered Riding program offers you four levels of certification. Levels 1 and 2 provide certification on the principles of centered riding within individual disciplines.
Level 3 offers qualified instructors to teach open clinics. Level 4 instructors can teach instructors clinics, open clinics as well as instructor update clinics.
To begin the path to riding instructor certification, each rider should have at least a year of teaching experience. Each rider should meet riding skill requirements, complete a 7-day certification course and participate in one open clinic. Costs for the Centered Riding certification may vary due to location and level of certification.
Professional Association of Therapeutic Horsemanship International
The Professional Association of Therapeutic Horsemanship International (PATH International) offers certification to therapeutic horse-riding instructors who wish to work with special needs riders.
Founded in 1969 at first as The North American Riding for the Handicapped Association. This association has 880 member centers and 8000 certified instructors. These instructors support more than 66 000 special needs riders in therapeutic riding and horse-related activities.
Registered, Advanced, and Master levels are offered for therapeutic instructors. Driving Instructor and Vaulting Instructor are also provided at PATH International. The certification process at PATH International includes submission of a 25-hour teaching video, completing a CPR and first aid course, attending a weeklong onsite workshop and certification class.
The application fee for PATH International Riding Instructor certification is $65. Continuing education credit hours, first aid, and CPR renewals are required each year to maintain your instructor's certification.
U.S. Dressage Federation
The U.S. Dressage Federation offers an instructor course for the riding discipline of Dressage. The course consists of three levels of certification. A practice exam or pre-certification exam is available to riders who wish to enroll in the program.
Requirements for certification are USDF membership, minimum of three years of teaching experience, a current first aid certificate, reference letters from fellow industry professionals, and the rider should attend a certification class.
A pass rate of 70% is required in each area of the program for successful applicants to qualify.
The USDF course will cost you around $750 for the first level, $750 for the second level, and $650 for the third level. You should also complete 16 hours of continuous education credits every year to maintain certification.
U.S Hunter Jumper Association
The U.S Hunter Jumper Association (USHJA) offers an instructor program for Hunter seat riding discipline.
To pass this program, the rider should have three years of teaching experience, pass a written exam, attend an instructor certification clinic. Provisional Instructor status is available to anyone who doesn't have the three-year required teaching experience.
The application fee for the USHJA is $100, and the exam fee costs $225. There is an online option available at $200 and consists of 5 hours of quizzes and videos. A six-month subscription to the video library at EquistrainCoach.com comes with the online option.
Once the application has been approved, the USHJA will send an email with online login details along with your exam credentials. To pass, you need 85% or higher results within six months of receiving the exam email.
Your certification must be updated to maintain certification once every five years.
British Horse Society
Founded in 1947, the British Horse Society (BHS) has more than 100 000 members in the United Kingdom. The BHS is widely respected and offers an extensive instructor certification program to riders.
Certification requirements include several levels of competency evaluations along with providing documentation of teaching experience.
The BHS three leveled course offers the first level of BHS Assistant Instructor, the second level of BHS Intermediate Instructor, BHS Instructor, and the highly prized and rarely achieved the highest level of Fellow of the BHS.
All candidates must be British Horse Society members.  The course fees for each level range from £350 to £600.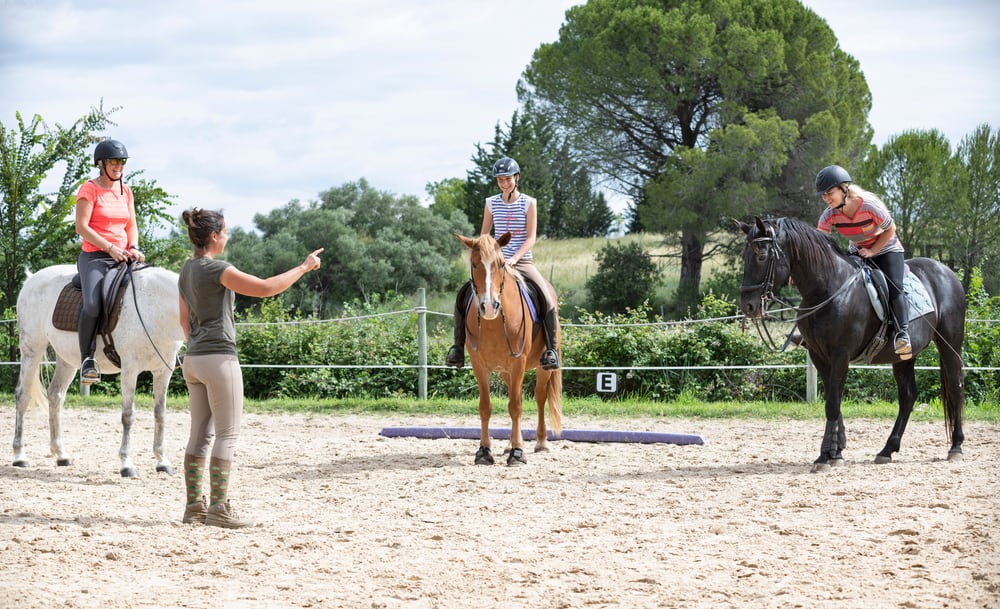 Safety and basic knowledge exam
All horse-riding instructors should pass safety and basic knowledge exam before being certified. This exam covers Riding theory, General Equine health, Safety, Physiology, and Anatomy of the horse and Laws and Regulations.
What are the tasks of a horse-riding instructor?
A riding instructor plans organizes and conducts riding practice sessions and sports instruction riding sessions for individual riders or groups.
A riding instructor develops training programs for individual horse riders or groups of horse riders.
A certified horse-riding instructor teaches horse-riding safety to horse riders.
An instructor teaches horse-riding students and horses to a competitive standard.
An instructor teaches stable management, horse care, riding safety, and horse health to students.
A riding instructor gives practical demonstrations on horse riding activities.
The instructor should observe horse riders' skills and riding abilities in order to correct problems.
Highlight a rider's achievements and mistakes and set up assessment methods to evaluate the rider's work.
Assist students in finding appropriate shows and competitions and help them prepare for them.
A riding instructor should demonstrate professional responsibility by assisting, guiding, and mentoring students in future equestrian career paths.
Manage and undertake administrative tasks like student information, budgeting, and booking competition venues.
An instructor has to make sure that insurance coverage is in place at all times.
An instructor should also be able to promote equestrian activities and manage marketing.
A riding instructor can teach and advise an assistant riding instructor.
Inspect appropriateness of venues and riding equipment for events.
Riding instructors travel to shows with their students to provide onsite coaching. They make sure that their students follow the rules of the competition and assist riders with last-minute preparations (like walking the course with hunter-jumper competitors, advising on how many strides to take between jumps, and how to best approach a jump).
The instructor may also drive a horse van to transport horses to and from the show grounds.
What skill sets should a horse-riding instructor have?
A horse-riding instructor needs good knowledge and understanding of horses. An instructor should enjoy teaching.
A skilled riding instructor should show professionalism and leadership through their instruction skills and be exceptional in communication, demonstration, explanation, feedback, questioning correction, and time management.
To be a good riding instructor, you need to be disciplined, friendly, patient and have good motivational skills. An instructor also needs to be firm but respectful and be able to remain calm in stressful situations.
A riding instructor should be able to provide tactical and technical instruction using varied approaches to meet the students' needs to reach their desired goals.
A riding instructor should know how to provide first aid to horses as well as riders.
A riding instructor should always be able to give constructive feedback, both criticism, and praise, in a consistent, clear, and respectful manner.
The instructor should be able to always provide the highest possible professional customer service and support special requirements.
A professional riding instructor will be able to adapt teaching techniques to target specific levels and groups of horse riders.
Working conditions and working hours as a riding instructor
As a riding instructor, you will be required to work mostly outdoors during all kinds of weather conditions, including weekends and some evenings. Some equestrian facilities have indoor arenas.
If you are a freelance riding instructor, you should be flexible with hours and travel between horse riding schools.
Salary and benefits for a horse-riding instructor
A horse-riding instructor's salary in the U.S. is around $15 per hour and up to $30 000 a year. Top trainers can easily earn up to $41 000 per year. In the U.K., riding instructors can make £12 000 to £15 000 a year. Experienced instructors can earn up to £25 000 per year.
Rates depend on your qualifications and the size of the riding center where you are working. Your salary can also depend on whether accommodation, meals, and further training are included in your salary package.
Where will a horse-riding instructor find employment?
As a certified horse-riding instructor, you would be able to find employment at a riding school, private stables, agricultural or Equine college. Trail riding centers, holiday horse-riding centers, and Pony clubs might also offer employment opportunities.
You could become a senior head instructor or competition judge at a riding school or even work abroad. Your certification is recognized and accepted internationally by member countries.
You could work as a freelance riding instructor at more than one Equestrian center and schedule your own working hours.
You could even become self-employed and start your own riding school.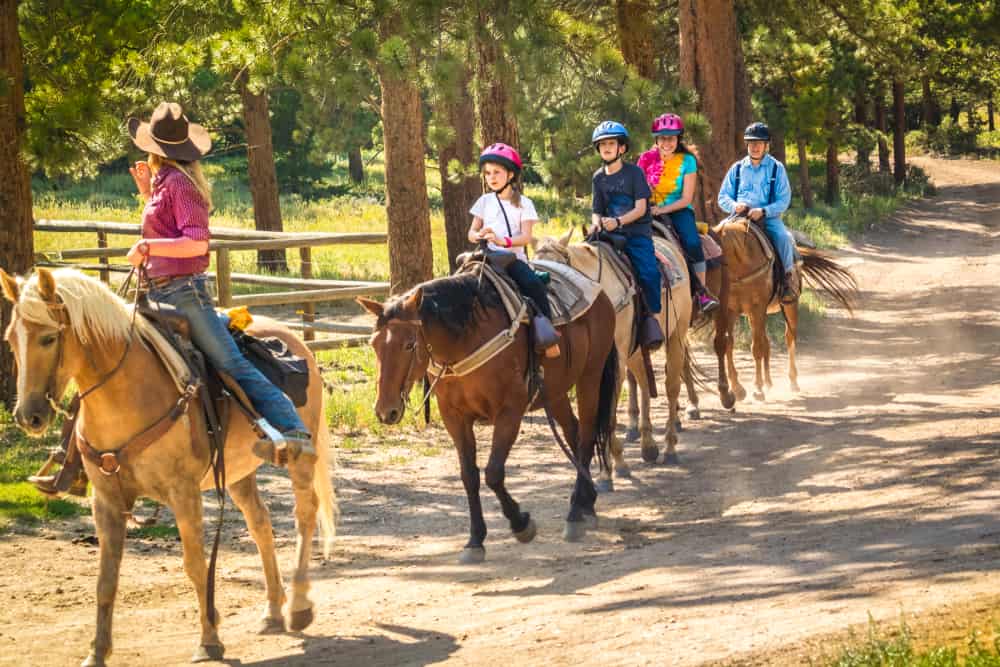 Riding Instructor Insurance
Giving riding lessons and training horses is a gratifying career but along with it comes some risks. Should anything happen to your students or any of the horses under your control, you need an insurance coverage plan that protects you in case of any injury or liability.
Most Equestrian facilities require instructors to have insurance coverage before they start working at their properties.
When you are working as a freelance riding instructor, you need insurance coverage for your liability to your students as well as the horses in your care. The insurance policy costs are around $300 per year.
The cover is provided for any claims against you for loss, injury, or death of a horse while in your care, custody, or under your control or any of your employees.  
Therapeutic riding instructor
A therapeutic horse-riding instructor teaches horse-riding to adults and children with physical, emotional, and cognitive disabilities. The horse is utilized to accomplish specific goals that are set through a collaboration with the participant, therapists, participants' family members, and the school system.
Therapeutic riding activities for individuals with a disability help them learn and improve their sense of positive self, focus, control, and physical wellbeing.
Individuals that want to become a therapeutic horse-riding instructor need a strong foundation in horsemanship, good people skills, and knowledge of individuals with disabilities.
Being a certified Therapeutic riding instructor is terrific, but it is not for everyone. Try volunteering at a therapeutic riding school at first to see if it works for you.
Working with horses that are free-thinking animals and individuals with disabilities can be unpredictable, stressful, and challenging.
It is essential for a therapeutic instructor to constantly evaluate the benefits and risks of both the horse and individual activities. A therapeutic riding instructor should be able to stay calm in stressful situations.
Therapeutic Riding Instructor Certification
There are several training courses and options available for those who are interested in therapeutic riding instruction.
Professional Association of Therapeutic Horsemanship International
The course at PATH International is offered as a three-level certification program.
Registered Therapeutic Instructor certification requires attendance at a PATH International training course, college, or university.
Advanced Therapeutic Instructor certification requires that an instructor is a registered member and has at least 120 hours of teaching experience at a PATH center. Submit a resume and references and completed a training course or workshop within the past two years
The Advanced certification requires a written exam, lunge line demonstration, a ridden exam, and a practical lesson. The certification fees are $1000.
For the Master's certification, the instructor needs to hold Advanced certification already and have four years of experience at a PATH center. The candidate also needs to have at least 400 hours of teaching experience and two years of service to the PATH International Association.
The Master certification candidate should provide a resume, references, video footage, and case studies.
The Master certification requires an oral evaluation that must be passed. The certification fees are $1000. A Therapeutic Riding Instructor's salary is around $42 000 per year and can increase to $57 000 depending on your level of expertise.
Below are a few more accredited Associations for Therapeutic Riding certification.
American Hippotherapy Association.
National Council for Therapeutic Recreation.
Association of Chartered Physiotherapists in Therapeutic Riding.
What makes a great horse-riding instructor?
A great riding instructor strives to gain their students' trust and understand that building this trust should be earned and will take some time. A good instructor allows their students to perform their very best and learn with ease while being comfortable and confident.
A good riding instructor never asks their students to do something beyond their riding capabilities. An instructor should be empathic, patient, and non-judgmental.
Even experienced riders have their off days where they don't feel invincible; a good instructor will understand this.
A student should be able to admit to the instructor when they are not feeling confident, worried, or comfortable without the fear of being criticized. Students should feel comfortable enough in the riding instructor's presence to make mistakes without feeling embarrassed.
A great instructor is there to support and give the students confidence. There are times when it is necessary to push a little harder, but a good riding instructor will never push too hard too soon. A great riding instructor will make teaching fun; after all, riding is meant to be fun.
Good riding instructors will teach their students to be the pilot and not the passenger on their horses and help their students work on small achievable goals at a time.
Praise as well as critique will be given in a respectful manner by a good riding instructor.
Becoming a Riding Instructor through an Apprenticeship
There is another pathway to becoming a riding instructor. You could apply for an apprenticeship through the Department of Agricultural Resources and do your apprenticeship at a licensed stable.
Every apprenticeship should be registered within 30 days at the Department of Agricultural Resources, Division of Animal Health Horseback Riding Instructors Licensing. The candidate should fill out the form provided by the Department of Agricultural Resources.
Your apprenticeship will take place under the supervision and guidance of a certified instructor at a licensed stable.
A person wishing to become a riding instructor through an apprenticeship should seek out and arrange for an apprenticeship with a currently licensed instructor.
The facility where the apprenticeship will take place should be licensed by the Department of Agricultural Resources as a Stable or Riding School. The whole apprenticeship should take place at the licensed stable.
When everyone has agreed to the apprenticeship, a Declaration of Apprenticeship form provided by the Department of Agricultural Resources is signed and submitted to the Department. This form must be submitted to the Department within 30 days of starting the apprenticeship.
The apprentice may then pay the application fee and apply to take the Riding Instructors exam. Before the apprentice can teach any student, the state-administered Riding Instructor exam must be passed.
Once the apprentice passes the exam, the mentor riding instructor can determine if and when the apprentice is ready to start teaching mounted students and to what extent. The apprenticeship will last six months.
The mentor may allow the apprentice, when he has passed the exam, to begin the required 60 hours of teaching riders under the direct supervision of the mentor.
The mentor riding instructor must keep a detailed record of the hours as the Department of Agricultural Resources will assess it before issuing a license to the apprentice.
Observing or assisting the mentor riding instructor in a lesson, reviewing or planning a lesson with the mentor, teaching a student to tack up a horse, unmounted exercises, cooling down a horse, grooming a horse are all important tasks; however, none of that time spent counts toward the 60 hours of teaching time to be certified.
Only the apprentice teaching mounted students under the mentor riding instructor's direct supervision counts towards the 60-hour required teaching time.
Conclusion
If you love horses and love to teach, becoming a horse-riding instructor through one of the accredited riding instruction associations is just the career for you. The most rewarding part of the job is working with horses.
Being certified as a Riding instructor can give you many different employment options. You can teach at a riding school, freelance, specialize in one specific horse-riding discipline, teach competitive riders, teach therapeutical riding and top-level riders; the choice is yours.
The rewards of teaching horsemanship and seeing your students' progress and reach their goals are enormous. However, the working hours can be long and stretch into the weekend or holidays. Being a riding instructor is demanding physical work that can be hard on your body.
Teaching freelance will give you the freedom to decide your own working hours and choose your own clients.
As with working with horses, working with people come with another set of challenges. As a riding instructor, you will deal with all sorts of people from the high strung, needy, down earth and the scatterbrained, and a good riding instructor deal with all of them in a calm, respectful way even if they get on your nerves.
Communication and the ability to motivate and encourage your students are essential for any riding instructor.
Keeping your clients happy and let them enjoy learning all about horsemanship is what being a horse-riding instructor is all about.