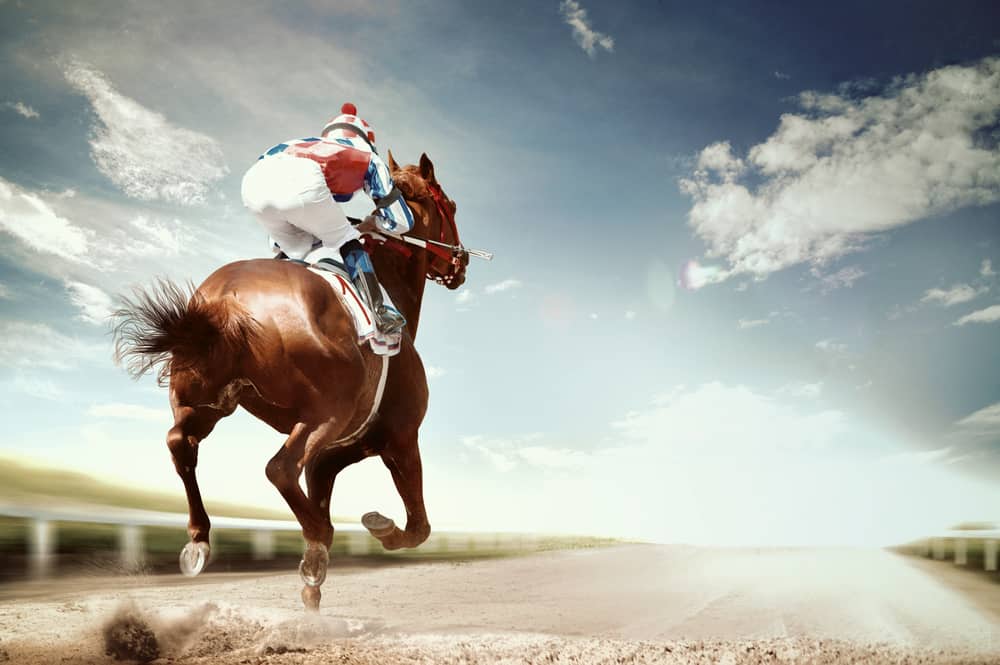 Does the thrill of the horse racing world excite you? Horse racing is an extremely popular sport worldwide and never ceases to catch the attention of onlookers. Horse lovers are drawn to the world of horse racing because it is a high-risk yet high reward sport. If you are a fearless rider that loves this part of the equestrian world, this might be the career path for you.
Becoming a professional jockey can take several years to accomplish, depending on in which country, at what yard, and to what extent you want to be a jockey. There are some requirements and strict training programs to become a full-time, professional jockey. Apart from being excellent and fearless riders, jockeys are extremely fit and strong.
Becoming a professional jockey is no easy feat, but it makes for an interesting job and life path. Working with horses in one of the world's biggest and most loved disciplines in the equine industry will have its rewards and challenges. Let us look at what a jockey is exactly, what the requirements are, how to become one and how long it takes.
What is a jockey?
The term jockey was first used to describe horse dealers, vagabonds, and minstrels, and it was associated with a cunning trickster. Only later on in 1670 was the term used to describe a person riding a horse in races.
Who does a jokey work for?
Jockeys work for themselves and are usually employed by horse trainers and owners to race their thoroughbreds for a certain fee. Should the horse win, the jockey will also receive a cut of the winning. The better the Jockey's winning records are, the higher their demand and the higher their fees.
Which horse races does a jokey race in?
There are two types of main horse races with their own sub-categories: Thoroughbred racing and Quarter horse racing. The racetrack is an oval shape and has varying lengths depending on the subcategories and the type of race: steeplechase or flat racing (for thoroughbreds). The main goal for the jockey is to get the horse over the finish line safely and first.
Does a jokey need to be fit?
Jockeys are excellent riders and are physically very fit. Being lightweight and smaller, jockeys still need to control horses that are large and going at a fast pace. On the day of the race, the jockeys will warm up their horses early in the morning before the afternoon's race. They will typically go into a steam room to relax their muscles and lose some water weight before the race.
What does a jokey need to know?
Each jockey needs to know their horse and the horse's preferences in each race to allow the horse to run at its best. Jockeys also know the racetracks and other jockeys and horses racing against them.
What does a jokey wear?
The different colors and patterns worn by jockeys are the colors that represent the owners or the trainers, or the horse. The tradition of these colors comes from medieval times in Italian City communities where they held races. These racing events are still held in town streets and are a big attraction. The "silks" and the colors are important parts of the racing tradition as they represent loyalty and festivity.
What are the dangers of being a jokey?
As mentioned before, horse racing is a high-risk sport. The jockeys are always in danger when riding racehorses. The rider, the other jockeys, and the horses are all at risk. Jockeys will try their utmost best to keep the situation within their control and keep themselves, their horses, and other jockeys as safe as possible.
Some possible injuries and other health risks:
Concussion
Bone fractures
Arthritis
Trampling
Paralysis
Sprains and strains of soft tissue
Dislocations
Anorexia or other eating disorders – due to the extreme pressure on weight
Dehydration
A jokey typically only know the weight requirements for a race three days prior. This means that some jockeys do crash diets and tend to wear heavy layers and dehydrate themselves to lose the extra weight before the race.
Some studies have been done on the effects of dehydration on jockeys, and there has been little to no effect on their cognitive ability. This means that jockeys are adapted and used to perform at the top level and cope with dehydration well.
How do jokeys earn money?
Payments come from a jockey fee – for riding the horse and a percentage of the purse (winnings) depending on their race placement.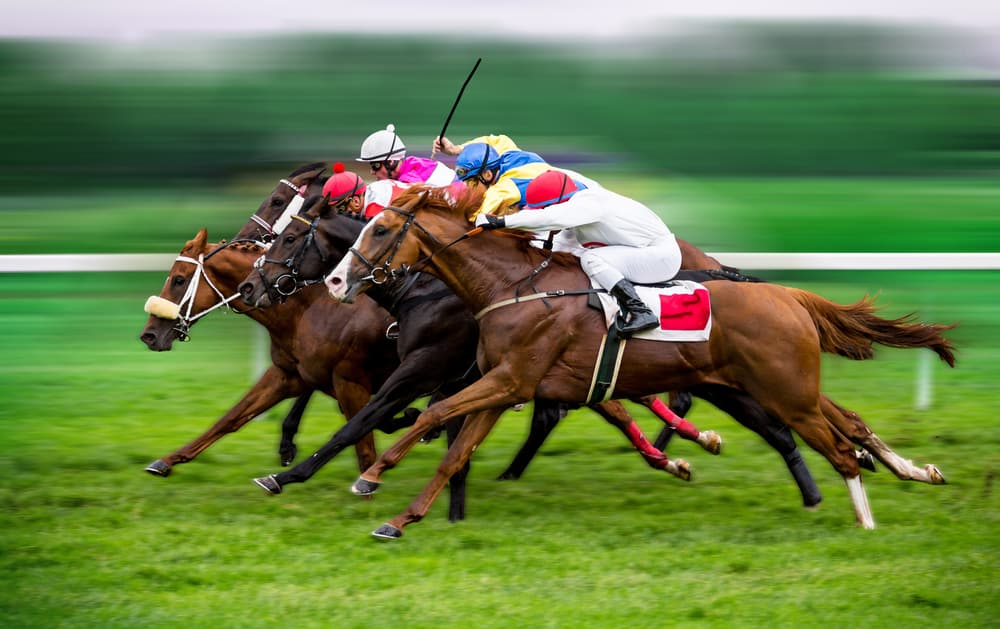 What are the requirements to become a jockey?
Let's look at what is required to become a jockey.
Physical fitness
Jockeys need to be in top physical condition and fitness to ride and train horses and participate in races.
The jockey also needs to stay in this optimal condition not to exceed the weight limits.
Even when the jockey is still only an exercise rider, they will be expected to keep up with these horses' training program and ride more than just one horse a day.
Jockeys need to be extremely fit; jockeys are seen as some of the world's fittest athletes. To become this fit, the jockey needs to ride racehorses regularly. The jockey needs to be in top racing condition.
Bravery and fearlessness
A jockey knows that the horse racing world is a dangerous and unpredictable sport.
It is not a question of if you will fall; it is when you are going to fall. It is also not just the jockey that can fall off of the horse. There are many instances where the horses stumble and fall while traveling at top speed.
Riding a 540kg (1,192.5lbs) horse moving at 64km/h (40mph) is not something for the faint-hearted. It's scary and intimidating, especially when you cannot control the horse's thoughts and actions.
Love for the sport
One needs to be passionate about horses and the equestrian industry to make a profession out of it.
Due to the high risk of the sport, if you are not dedicated and passionate about the sport, you will not become a professional jockey and reap the rewards.
Being a jockey is a lot of work and starting at a racing yard or racehorse farm will mean long work hours, little pay, and a lot of hard labor.
Being passionate about the sport will definitely be needed to become a good jockey as it will only fuel you to work hard and not give up too soon.
Weight and height
Jockeys need to be as light as possible while still strong enough to control such large animals at high speeds.
Weight limits for Jockeys include their body weight and their equipment that will go onto the horse.
The usual weight range is between 49kg to 54kg (108 – 118lbs)
For the Kentucky Derby, the weight limit for this race is 57kg (126lbs)
Jockeys do not have a height limit, but due to the weight limit, all jockeys are fairly short, 147cm – 168cm (4ft 10in – 5ft 6in)
The more experienced and professionals jockeys will have added weights to their tack and equipment that is calculated by the number of wins and experience the jockey has
Owners and trainers will hire more apprentices and beginner jockeys because they do not have added weights.
Training
Jockeys need formal training in the horse racing industry to make it big.
A jockey needs to work as a trainer, apprentice jockey, and build experience with training and riding racehorses.
The rider can go to Jockey training academies or go and work on racehorse farms and race tracks.
Either one will allow the jockey to work, care for and maybe ride the horses as exercise riders. The jockey can then go under apprenticeship and, from there, build their career.
Horsemanship
All horses are different, and jockeys need to communicate with the horse, even at high speeds.
The jockey needs to be able to know what the horse is capable of and train and race it in a way that the horse will perform at its best
Jockeys work with many different horses and trainers, and thus, having good horsemanship skills is a must.
The jockey needs to have basic knowledge and skills to work with horses off the saddle as well. Management and care of racehorses are of imperative importance as a well-managed and cared for racehorse can compete at their best.
Knowledge of racing
To be successful in the racing industry, you will have to have good knowledge of the racing industry in general and knowledge of the current horses and riders and their trainers and owners.
Using trainers before and after races is a way to gain knowledge and experience on the horse's performance, what could be changed and improved upon, and the best way to train that specific horse.
Knowing the tracks and their surfaces are also important for jockeys. The jockey needs knowledge on the type of surface – grass or turf – and how a horse runs on those surfaces to be able to race safely and properly.
Riding and training horses every day
Becoming a jockey takes a lot of hard work, determination, and riding and training racehorses. The more experience you have with racehorses and as a trainer and jockey, the better your chances will succeed.
Being a jockey will require the rider to train and work with the horses regularly. Just like us human athletes, horses need to become fit and stay fit to race.
Riding, racing, or training many different horses will also increase your ability to ride and race well. Being adaptable and working with each horse as an individual is an important part of the racing industry.
Not all the owners and trainers would allow you to ride their expensive racehorses. When you gain experience and ride a good amount of horses for training, some trainers and owners can vouch for your talent and riding ability. This can then allow you to expand your riding and your career.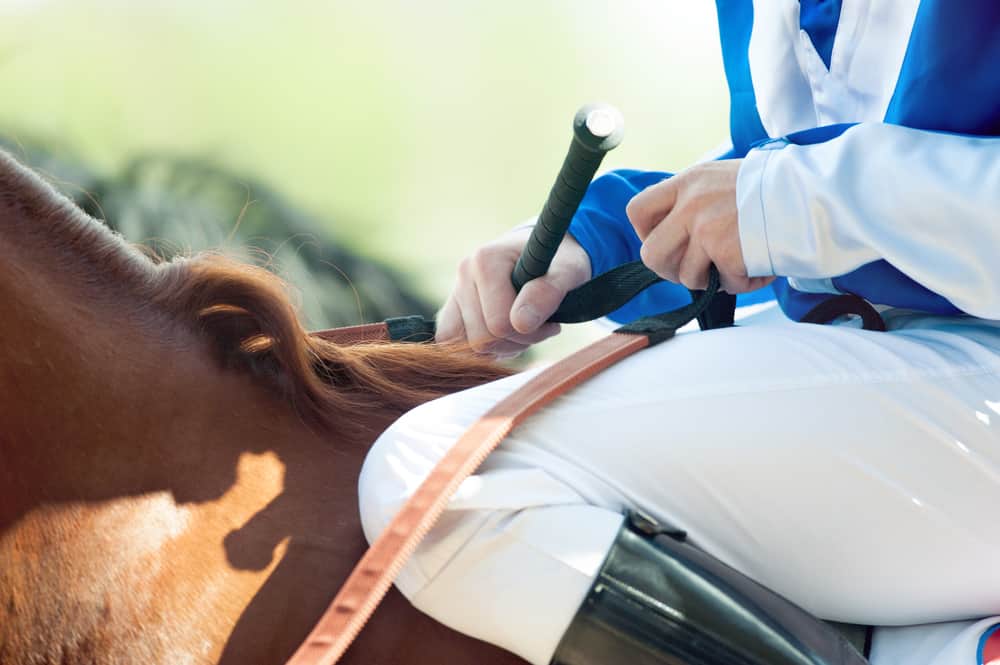 How to become a jockey
Let's look at how to become a jockey and the time it can take on average.
Working under apprenticeship
A beginner jockey will work under the apprenticeship of their master (trainer and professional jockey) and start with training racehorses in the mornings. After four years of the apprenticeship, the jockey moves from apprentice to senior jockey and usually becomes freelance and creates relationships with the trainers and individual horses. Owners pay senior jockeys to participate in races with the owner's horses.
Another way of working for the job is starting work at a racing stable yard and working yourself up from there. Starting an entry-level job at a racetrack or yard can give you more experience on what goes on behind the scenes, and it will allow you to meet other jockeys that may take you on as an apprentice.
Training and exercising horses for owners for free can make way for you to build up experience, a name, and some contacts. Although not many jockeys use this route, it is a great way to get experience and learn the racing industry's inner workings.
After working themselves up from grooming and working around the yard, the jockey can become an exercise rider and be allowed to participate in schooling races. These races are designed to teach new jockeys how to race. This entails exiting the starting stalls correctly, handling the horse during a race, pacing the horse as needed, and racing with other jockeys and horses.
Formal education and training
Jockeys can enroll in a jockey training program in Academies like the North American Racing Academy in the United Stated to acquire formal education and training. The programs vary in length, but the one in the United States offers a two-year program. Applicants need to have experience with riding and training horses and at least a high school diploma. The jockeys learn the horse's anatomy, bandaging, caring, prepping, grooming, and riding the horses.
Another way is to apply for a Jockey Apprenticeship License, the rules and requirements can vary based on the region of Jockey Clubs, but in the United States, the applicants must be at least 16 years old and meet the height and weight requirements. These requirements and age limits differ from each state and country; thus, you would need to do some research before applying for an apprenticeship license.
Some necessities for completing the apprenticeship can be completing a certain amount of time working in the stables, writing an exam, meeting certain race and health requirements, and completing at least 20 barrier trials successfully before being promoted to senior jockey allowed to participate in races.
The health of the jockeys is an important part. The trainers seek riders who are average 120lbs and less and can healthily maintain that weight. Many states require the jockeys to undergo a physical exam every year or have medical affidavits to ensure that they are healthy. Jockeys have to weigh in many times throughout their career. When the jockey rides more than one horse on race days, they will have to weigh in before each race.
Weighing in all the time and having a lot of pressure on maintaining the optimum weight can have mental challenges and give way to unhealthy habits. As a professional jockey, one will need to know how to maintain your weight healthily and know how to deal with this profession's mental stress.
Conclusion
Becoming a jockey takes years of hard work, dedication, and a love for the sport. Depending on which path you want to take – Jockey Academy or Apprenticeship it can take between 2 to 6 years to become qualified. Even then, you will have to work your way up and build a name for yourself.
Jockeys are freelance and work for themselves; this means that you will have to work hard and get many contracts to earn money. The better you do, the more you will earn.
This career path is high-risk and high reward, but it is one of the best professions out there, especially when you are passionate about horses and the racing industry. Not only do you get to be a part of this old and traditional discipline, but you get to work with some of the most expensive horses in the world.
Any profession in the equine industry takes time, effort, and also money. As a jockey, you will need your own racing equipment, insurance, gym memberships, and trainer. If you meet the requirements of being a jockey and are up to it and passionate, I would definitely recommend this profession.