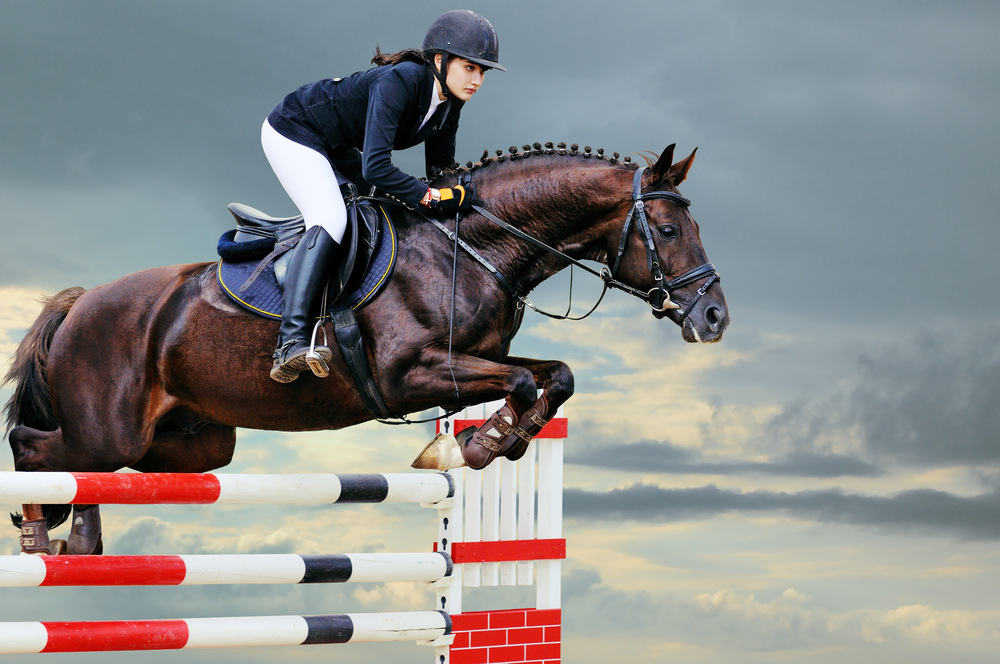 So, you have now decided that you want to do showjumping, a discipline known for its jaw-dropping, awe-inspiring jumps in the high levels. Showjumping is a lovely discipline, where horse and rider work together to navigate a course of a set amount of obstacles in a specific time. All horses can jump, but some breeds are bred specifically for show jumping.
Any horse breed can do a simple low jump over an obstacle. However, specifically bred horses for showjumping have an innate talent, scope, bravery, and athleticism that allows them to jump higher. The best overall breeds for Showjumping are Warmbloods. Modern warmbloods are naturally talented and powerful enough to jump successfully. Hanoverian, Dutch Warmblood, Oldenburg, Selle Francais, and Irish Sport horses are the best breeds for show jumping.
Most horses can navigate a simple show jumping course, but as the fences get higher and the course becomes more complex, a horse bred for showjumping and has a natural talent will fare much better in these classes. A good, seasoned rider will be able to bring out the best in their horse. Some horses that don't look like much might even surprise you.
Top Competitive Breeds in Showjumping
Before we go into more detail on the breeds. Let us look at the top showjumping horses of today and what breeds they are. Here are to top 5 Longines riders and their top jumping horse:
Daniel Duesser – Daniel has recently competed in the Tokyo 2020 Olympics for the individual and team show jumping event for Germany. He competed on Killer Queen VDM, an 11 year old, Belgian warmblood mare. After that both went on to compete at the FEI CSI5* event in Belgium and they placed 1st and second.

Martin Fuchs – Martin is a 29 year old Swiss show jumper and is currently ranked number 2 in the longines rankings. He has recently won Silver for the 2018 Individual event at the FEI World Equestrian Games in the USA. He also competed in the Tokyo 2020 Olympic games on his horse Clooney 51 and placed 16th overall in the individual event. Clooney is a 15 year old Westphalian Warmblood gelding, a warmblood bred in Western Germany. He has a total of 300 starts and 20 wins.

Scott Brash – Scott is a british, 36 year old showjumper that has recently climbed the ranks again and is currently ranked 3rd in the Longines world ranking. He competed in the Tokyo 2020 Olympics with his horse Hello Jefferson and placed 7th in the Individual events. Hello Jefferson is a 12 year old Belgian Warmblood Gelding. Jefferson has had 218 starts and 13 wins.

Steve Guerdat – The 39 year old Swedish rider is well known in the Show Jumping world. He is currently fourth in the longines rankings. He achieved a fifth in the team event in the Tokyo 2020 Olympics on his horse Vernard De Cerisy. Vernard is a 12 year old Selle Francais warmblood gelding. Vernard has had a total of 196 starts and 196 starts and 10 wins over the course of his career.

Julien Epaillard – 44 year old Julien is a show jumper from France and is currently lying 5th in the Longines world rankings. His recent achievements was a first place in Valkenswaard, CSI5* Table A show jumping competition in
August. His horse Billabong Du Roumois is a 10 year old Selle Francais Gelding. He has a total of 51 starts and 3 wins.
What Makes a Horse Good at Jumping?
Now you are ready to look at some horses to buy specifically for show jumping. Here are some things to look for when buying your next top showjumper:
1. Natural ability
A naturally athletic, maneuverable, and adjustable horse will make training and jumping much easier for both you and the horse. Showjumping recruiters fitness, physical strength, scope, carefulness, suppleness, and willingness from the horse
Carefulness means that the horse does not want to touch a pole and tucks their front legs in over a jump and can quickly move their hind legs out of the way as well. A horse that does not pick up its legs over a jump is not careful and will cause knocks on a course, thus incurring penalties.
Suppleness and adjustability are necessary for a horse to navigate difficult turns and adjust their striding in between jumps as needed. The horse needs to be agile, light on its feet, and react to the rider's aids. The rider must lengthen or shorten the horse's strides without difficulty or resistance from the horse. The horse must be able to transfer its weight onto its back legs and produce power from behind.
Brave horses are the way to go. Some horses are naturally spooky and flighty. This might be problematic when approaching jumps that have scary fillers and wings. A good show jumping horse needs to pull you towards the jump and not feel like they are backing off of the jump and require prompting to jump the
obstacle.
2. Sure-footedness
A sure-footed horse is described as a balanced horse that is comfortable on any surface and focuses on the job. You do not want to go around a big jumping track and have a horse trip mid-stride. Sure-footedness can be taught. Balancing exercises and proper flatwork lessons are needed to help a horse balance themselves and the rider both in between and over jumps. Hacking out on different surfaces will help the horse be more comfortable and teach them how to be quick on their feet.
3. Fitness
Fitness also goes hand in hand with athleticism. However, fitness can be improved and kept up with regular exercises of different paces, lengths, and types. Working in the arena does not require the same amount of fitness as hacking out or lungeing does. A routine consisting of arena, track, lunging, hacking, and/or treadmill work in different intensities is required to keep your horse in top shape.
4. A good eye
A good eye in show jumping does not mean that the horse sees well. It refers to their ability to judge distances coming into a fence. A horse has a blind spot right in front of them. This means that the horse needs to be at least 3 meters away from the fence to see it directly in front of them. A rider will line up a horse for a jump at least 6 strides before the jump (30 meters) to help the horse gauge the distance to the jump. A rider also needs to have an old eye and judge their distances correctly. If a horse and rider can successfully judge their distances before a fence, they will clear the jump, and the risk of injury is very low.
5. Large strides
A large, ground covering stride is desirable in show jumping horses. Because the larger Warmblood breeds in the high show jumping classes are slower and heavier, making the classes going against the clock harder. A larger and more ground covering stride will help the horse cover more ground in a smaller amount of time.
6. Uphill conformation and good legs
Conformation for a jumping horse is essential, especially if you plan to go up the grades and develop your career. Not one horse has faultless conformation, but doing pre-purchase vetting on your horse can help you choose the right horse with longevity and the horse's comfort in mind. However, just because a horse has pigeon toes (toed-in) does not mean he can't jump or any conformational fault.
Confirmation is important because a horse is predisposed to specific injuries caused by incorrect conformation. Try and avoid possible injuries and heavy vet bills by setting you and your horse up for success. You want your horse to have straight legs with good joints. This means that the horse's leg is not rotated and goes straight down an imaginary line. From the front – the horse's legs need to be straight from the point of the shoulder, to the knee, down the cannon, and to the toe. The higher up the rotation starts, the worse the conformation fault.
From the side – the shoulder needs to be sloped. Too straight or too flat means the concussion from jumping will have adverse effects on soundness. The slope of the shoulder determines the neck angle as well, a straight shoulder makes the neck appear more uphill, but it shortens the neck top line. This causes the back to be longer, shortens the strides, and puts more weight on the front legs. You also want a straight line from the center of the scapula down to the hoof. The imaginary line should touch the front of the knee and bisect the hoof.
The hind legs from the back – the horse's hind legs need to be straight from the point of the buttock down to the hock and fetlock. The back hooves point slightly outward as normal conformation. Deviation from this straightness can cause joint, tendon, and ligament problems. It will also affect their performance as base-wide horses have trouble pushing from the hind.
The hind legs from the side – an imaginary straight line should be drawn from the point of the buttock to the back of the hock, cannon, and fetlock and lands perpendicular to the ground. In jumping horses, the hind leg conformation and angles are essential, affecting their jumping ability in the future.
History of Modern Sport Horses
The term "warmblood" came from a time where "hot-blooded" meant pure breeding and "cold-blooded" meant not pure breeding for horses. The term "warmblood" came from horses with a hot-blooded and a cold-blooded parent. This term originated in Europe, and it was used to describe horses that were commonly bred from a Thoroughbred or Arab stallion and a draft horse mare.
In previous years, the horses were bred for a specific purpose of that country's needs: plowing, riding, warhorses, carriage horses, and transport. The different types of warmbloods and their breed societies were named after the region where they were originally purposefully bred.

More modern warmbloods are considered sport horses. They do not look that much different phenotypically as different as before because the purpose for breeding has changed to a more discipline-orientated way. This causes different warmblood breeds to be mixed to achieve the best athletic horses for the specific breeds.
Today warmbloods can be seen as the modern sport horse. Although there are many different warmbloods, most of these warmbloods look the same and have little difference. This is because of the mixing of different Warmblood stallions in different parts of the world due to technology such as freezing semen and transporting it.
Best Breeds for the Lower Grades
All horse breeds can jump. However, that doesn't mean all of them should. Large, heavy horse breeds can jump very well in the lower grades, but the impact on their joints needs to be considered before jumping them. Draft horse crosses with smaller breeds are more suitable for jumping as they can be large but more athletic and lighter. Smaller horse breeds such as Arabian horses and ponies do pretty well in the children's jumping classes.
Crossbreed ponies and horses are commonly used in riding schools for lessons. These ponies and horses generally do well in the lower grades for showjumping, and they are great at teaching beginner riders the ropes.
Other horse's commonly used in the lower grades for jumping:
● Thoroughbreds
● Welsh ponies
● Arabian horses
● Warmbloods
● Anglo Arabians
● South African Boerperd
● Saddler crosses
● Draft horse crosses
● Friesian crosses
● Connemara ponies
● Quarter horse's
● Irish sport horses
The Differences Between The Warmblood Breeds in Show Jumping
Holstein
A German-bred warmblood, Holsteiners, gets their name from their place of origin: Schleswig-Holstein. The Holstein breed dates back to the 13th Century, making them one of the oldest warmblood breeds. Holsteiners are graceful and often eye-catching, making them a favorite in the show ring. Holsteiners have a good work ethic and rideability.
Temperament: Mild, intelligent
Height: 16hh – 17hh
Colors: Black, Dark Bay, Bay
Weight: Averaging at 1025lbs
Oldenburg
Oldenburgers were bred as workhorses and harness horses. These warmbloods have a large stature, attractive markings, and good conformation. These horses enjoy their work and get quite lively, which is a preferred trait in show jumping horses. Different breeds developed the Oldenburg: Norfolk Roaster, Thoroughbreds, Hanoverians, Neapolitan, and Andalusians.
Temperament: Willing, quirky
Height: 16hh – 17.2hh
Colors: Bay, Black, Grey, Chestnut
Weight: 1500lbs – 1700lbs
Hanoverian
The Hanoverian warmblood originated in the kingdom Hanover in Germany. They have great stamina and ideal bone structure, making them a favorite among jumpers. They have good conformation and athleticism.
Temperament: Docile and calm.
Height: 15hh – 18hh
Colors: Chestnut, Bay, Black, Grey
Weight: 750 – 1100lbs
Danish
European stallions and Danish mares were crossed to develop the Danish warmblood in Denmark. This breed has been used in a large variety of work such as war horses, transport, farm work, and pleasure riding. Modern Danish warmbloods are used in English riding competitions. The Danish warmblood has great conformation for showjumping, and they are naturally well-balanced.
Temperament: Spirited, brave
Height: 16hh – 16.2hh
Colors: Bay, Black, and Chestnut
Weight: Around 1100 lbs
Belgian
As suggested by their name, Belgian warmbloods come from Belgium. Specific breeds were used to build a foundation for these horses: Hanoverians, Holsteiners, French show jumpers, and the Netherlands. Belgian warmbloods are very powerful and are favored in many English riding disciplines.
Temperament: Intelligent, loyal, tenacious
Height: 17hh on average
Colors: Tobiano, Bay, Grey, Pinto, Black, Chestnut
Weight: Averaging 1300lbs
Irish Sport Horse
The ISH breed originally came from crossing Thoroughbreds and Irish Draughts, and they quickly became a popular breed. Hanoverians, Selle Francais, and Trekehners were used to add athleticism and to refine the breed. These horses are bred to jump, run, and gallop. Irish Sport horses are very kind and gentle, yet tough and extremely talented, sound and brave. An Irish sport horse combines some of the best breeds globally, and they excel at many English riding disciplines.
Temperament: Kind, gentle, willing
Height: 15hh – 17hh
Colors: Black, Chestnut, White, Grey, Bay, Roan, Buckskin, and Champagne
Weight: 1200lbs – 1500lbs
Selle Francais
The Selle Francais is a popular and well-known horse breed that originated in France. This breed is a complex mixture of other breeds and has a long history. Native French mares were crossed with Thoroughbred or Norfolk stallions. Due to the crossing of so many different breeds, there is a lot of genetic diversity. Selle Francais horses are easy keepers, they keep their weight well, and their hooves are strong and hardy. They are very athletic and powerful horses. This breed is used in many other disciplines due to its diversity and athleticism.
Temperament: Energetic, patient, and competitive
Height: 15.1hh – 17.3hh
Colors: Bay, Grey, Roan, and Chestnut
Weight: Averaging 1300lbs
Westphalian horse
Also known as the Westfalen horse, a German horse breed originating in Westphalia. This breed is quickly becoming a favorite among the top show jumpers due to its athletic ability, good temperament, and beauty. These large horses stem from breeding Oldenburg, Hanoverians, and Anglo-Normans. These horses were originally used for farm work and riding. This breed excels in showjumping and dressage.
Temperament: Intelligent, willing
Height: 15.2hh – 17.2hh
Colors: Bay, Black, Chestnut, and Grey
Weight: 1000lbs – 1300lbs
Trakehner
Originating from East Prussia, the Trakehner is a lighter warmblood breed that stemmed from other warmbloods being bred with Thoroughbreds and Arabians in the 1800s. The Trakehner has a big floaty gait and a combination of elegance and balance. Due to their agility and speed, the Trakehner is a favorite amongst top show jumpers and eventers.
Temperament: Keen, alert, eager to please
Height: 15.3hh – 17hh
Colors: Black, Chestnut, Grey, Bay
Weight: Averaging at 1500lbs
Swedish
SWBs are very elegant, athletic, and kind horses. The best breed development for these warmbloods happened when they were crossed with Friesian and Spanish horses. SWBs are known for their agility, swiftness, and reserved nature. They are very versatile and can be used in racing, ranch work, jumping, eventing, dressage, and pleasure riding.
Temperament: Quiet, calm
Height: 16hh – 17hh
Colors: Grey, Pinto, Roan, Bay, Pinto
Weight: Averaging at 1025lbs
KWPN
Dutch warmbloods are among the most well-known breeds in today's equestrian world. There were originally two types of KWPNs, a lighter, more athletic horse from Gelderland and a heavier working horse from Groningen due to the different environments and needs. These different areas crossbreed their horses to either refine their horses or add more mass to their horses. The farmers at the time had very strict breeding practices. KWPN stands for Koninklijke Vereniging Warmbloed Paarden. Dutch warmbloods have near-perfect confirmation, and they are powerful and versatile.
Temperament: Confident, willing, reliable
Height: 16hh – 17hh
Colors: Bay, Chestnut, Black, and Grey
Weight: Average 1450lbs
Conclusion
Most modern warmblood horses are bred for the competition ring. Although a horse might be talented and athletic enough for show jumping, it does not mean that horse will jump up the grades either because a horse needs more than just talent to compete in the top grades of show jumping. There are many favorites amongst the showjumpers, but each rider has their preference for breeds and horses that they jump. It also depends on the area where you ride and learn how to ride. The common breeds in that area or country will also be a factor.
Resources